The Commonwealth Bank is planning a fresh assault on the crucial mortgage market to counter the growing threat from fintechs, offering fully digital home loans that can be approved in as few as 10 minutes.
As CBA looks to use its technology clout to cement its dominant position, retail banking services group executive Angus Sullivan on Friday said the next front in the battle with fintechs would be in mortgages.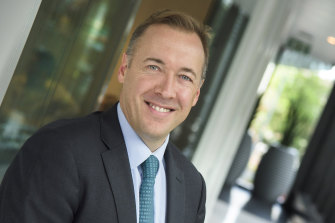 Mr Sullivan also said the housing market's growth would continue despite the lockdowns in Sydney and Melbourne, predicting low-fixed rates would buoy confidence in the upcoming spring auction season.
CBA, which already holds more than one in four home loans, said at this week's results it would launch a digital-only home loan, which will crunch customer data to enable rapid approvals.
Mr Sullivan revealed extra details on Friday, saying the product would initially be aimed at simpler loans of less than about $3 million, with lower loan-to-valuation ratios. For this customer group, he said CBA would aim to decide on whether to approve loans in as few as 10 minutes.
"We'll be looking to do a 10 to 20 minute mortgage, and that will be a huge opportunity for more Australians to take advantage of locking in great rates by refinancing more easily," Mr Sullivan told journalists.
Mortgages with higher values, or more complicated loans such as those involving trusts, would be harder to automate, he said.
Evans and Partners analyst Matthew Wilson said several smaller players including Nano, Athena Home Loans and Bendigo and Adelaide Bank-backed Tic:Toc had offered digital home loans for some time, but CBA was now looking to match them.
Loading