It might be possible to laugh off some of sport's byplay, but not this. Why? Because it seeks not to diminish what his target does, but who he is. This is what I heard in Eddie Betts' defeated lament on AFL 360. Whatever I say or do now, he seemed to be saying, I'm going to wake up black again tomorrow, and I'm going to cop it.
If you see Indigenous Australians as fellow humans, you just know not to speak to anyone in that way. If you don't, no crash course is going to redeem you.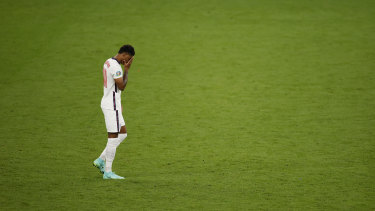 To be clear, education is the answer to great social ills. It works. Think about drink-driving and seat belts and the AIDS crisis long ago, obesity and smoking more recently. Education will get us there on vaccines, and hopefully violence against women, and maybe even climate change. Education is the way we evolve and progress.
But it has to be education, not rote learning, not box-ticking. Each time the racism bogey raises its head in sport, everybody starts to bang on about education. To that extent, you can't blame Walker.
It's an industry-wide reflex. The AFL and the Players Associations have been running education programs for years. At the release of the Do Better report at Collingwood earlier this year and its momentous fall-out, Federal Indigenous Affairs minister Ken Wyatt said that what Eddie McGuire needed was education. The report itself recommended an education program.
Even Betts spoke this week of the need for more education. So did Andrew Krakouer. But the word must echo dully in their own ears. Certainly you could hear it in Betts' cri de coeur. He's tired of having to be the teacher.
Education works only if it is sincerely delivered and received. Too often, when sports talk about education, it's as if the word itself is the panacea. Education, done. Too often, it seems to fall on players' ears that way. Walker was the one made answerable this week because he was caught, but you'd be naive to think he was a one-off.
It would be wrong to conclude that education hasn't worked at all. The fact that Walker was reported from within his own club was a big step, a leap. It suggests a growing realisation that this is much bigger than a footy issue. But it is also inescapable that Walker clearly thought he was on safe ground.
So it's hard not to dwell on the fact that it's more than a quarter of a century since Winmar and Long and Monkhorst, and think about all the instances of racism in sport that have come to light since, and consider the way society's attitude to them has shifted, and reflect on all the resources that have been devoted to education along the way, and be depressed by the thought that there still can be a Taylor Walker moment.
Oh yes, we're educated. But what have we learnt?