"What I will say, though, in broader terms is that we'll do what keeps Victorians safe –whether it's popular or not. That may involve having to say no to a lot of people who want to come here."
AstraZeneca for over 18s at all state hubs
The AstraZeneca vaccine will be available to Victorian adults at all 50 state-run vaccination hubs from Monday in an effort to meet a new target of 1 million vaccines in the next five weeks.
Until now, the AstraZeneca product was available to Victorians aged 18 to 39 at nine state hubs or from some GPs.
Three more drive-in vaccination hubs will also be set up in the coming weeks after the success of the first drive-in in Melton.
Mr Andrews said more than 10,000 young adults had received their first AstraZeneca dose at a state-run clinic and more than 20,000 vaccines had been delivered across all ages on Thursday.
It is hoped more than 200,000 doses will be administered each week between next week and September 19.
South Melbourne Market listed as COVID-19 exposure site
More than 400 locations are now listed as exposure sites, including a regional Victorian supermarket in Bacchus Marsh.
A number of sites at South Melbourne Market were added to the state's exposure-site list as tier-1 venues after a person with COVID-19 visited last Saturday.
South Melbourne Market executive director Danielle Bleazby said the market had completed deep-cleaning overnight on Thursday/Friday and about 20 stalls had opened on Friday.
"We have done the cleaning all through the night, and we've got [Health Department] approval to open today, which is fantastic news," she told radio station 3AW.
"[The stores on the exposure list] have been cleaned so they actually are available to the open, if those stores have the staff that weren't working there on the Saturday and they're not getting tested and isolating."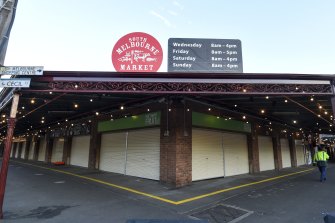 Anyone who visited the affected stalls between 1.30pm and 2.20pm last Saturday is required to get a COVID-19 test and isolate for 14 days.
Moonfish Albert Park and Gum Tree Good Food Middle Park have also been listed as tier-1 exposure sites.
The Prince Wine Store and Bellota Wine Bar in South Melbourne and Bread Club in Albert Park were added to the list as tier 2 sites.
Victorian AMA wants hospital staff better supported
Victorian AMA president Dr Roderick McRae said Melbourne's public hospital system was under pressure because of the rising number of exposure sites.
Dr McRae wants support in place to better retain hospital staffing levels when some workers are potentially exposed to COVID-19 while out and about in the community.
"One of the difficulties is that a lot of the staff in the public hospitals, in the emergency departments, in the general wards, all live around the vicinity of the various hospitals," he told Channel Nine's Today on Friday.
"So, if they go to the shopping centre, where these mystery people are spreading, transmitting the virus, then they get their message from the health authorities and they are furloughed, they stay at home for their 14-day quarantine."
Dr McRae said there needed to be a better system in place to ensure adequate staffing.
The ACT recorded two new cases on its first day of a seven-day lockdown, while Queensland announced seven cases, all linked.
Stay across the most crucial developments related to the pandemic with the Coronavirus Update. Sign up for the weekly newsletter.