While Paenga-Amosa's crooked throw was the play that defined the difference between the two teams, there was another play which typified the big brother-little brother relationship.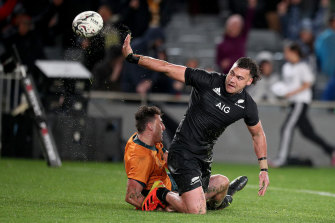 A bizarre Matt To'omua kick well after the final siren found a grateful Beauden Barrett.
In any other match, Barrett would have belted the ball high into the nearest grandstand and started celebrating with his teammates.
But Barrett could smell blood. A 50-22 win wasn't enough. The All Blacks wanted more.
The superstar fullback set off a counter-attack which finished with a try to David Havili.
The All Blacks didn't need to score. The tired forwards that could barely pick their legs up probably would have preferred Barrett to end the game then and there.
But after Andrew Kellaway queried through the week whether the All Blacks had lost their aura, and other Wallabies repeatedly stated their lack of fear for their opposition, the beating wasn't finished until the referee stopped the fight.
It was either the kind of arrogance all the very best teams in world sport boast or a personal message to some vocal Wallabies. Perhaps it was both.
But it must have made the Wallabies feel helpless.
That's how Australian rugby fans feel after watching their team sink to another embarrassing defeat across the Tasman.
The familiar feeling was somewhat expected against some All Blacks sides that made a case for being the best of all time.
But these New Zealand teams are far from the near-invincible sides from the halcyon Richie McCaw and Dan Carter era.
Foster's side were vulnerable in both Tests on home soil. They will be far from happy ahead of blockbuster Tests with the Springboks.
The Wallabies were simply nowhere near good enough to make them pay.
In the 24 hours after the Wallabies clinched a captivating series win against France, the Herald picked up the phone and spoke to several senior RA officials to gauge the mood.
One of those officials compared the Bledisloe Cup to the America's Cup.
Eventually, the official said, the Wallabies would win the Bledisloe back. And what a moment it would be when the drought was broken.
After yet another demoralising series, winning another America's Cup seems more realistic than ever winning the Bledisloe back.
Australia hasn't entered a boat in that race since 2000.