Kabul: The US Embassy staff in Kabul, Afghanistan, has been told to start destroying anything with American logos or flags that could be used in propaganda efforts as the Taliban surge comes within 12 kilometres of Kabul, following the capture of the neighbouring province of Logar on Saturday.
The Taliban captured all of Logar and detained its provincial officials, Hoda Ahmadi, a lawmaker from the province, said on Saturday. She said the Taliban have reached the Char Asyab district, just 11 kilometres south of the capital, Kabul.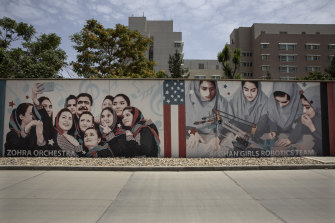 Earlier Saturday, the insurgents launched a multi-pronged assault on Mazar-e-Sharif, a major city in northern Afghanistan defended by powerful former warlords.
Afghanistan's President Ashraf Ghani said he was in urgent talks with local leaders and international partners, but in a televised address he gave no sign of responding to a Taliban demand that he resign ahead of any ceasefire or political settlement.
"As your President, my focus is on preventing further instability, violence, and displacement of my people," Ghani said.
The Taliban has captured most of northern, western and southern Afghanistan in recent weeks, leaving the Western-backed government in control of a smattering of provinces in the centre and east, as well as the capital, Kabul.
As US intelligence estimates that the Taliban could wrest control of the capital within the month, a notice to all American personnel at the US embassy, sent on Friday from the facilities manager, asks staff to "reduce the amount of sensitive material on the property", according to a copy obtained by Bloomberg News. It asks that they destroy anything with US logos, flags "or items which could be misused in propaganda efforts".
The email details the ways diplomats can destroy material: use burn bins and shredders for paper, a disintegrator for electronics, incinerators for medical waste and a compactor that "can crush items that are too big for the disintegrator." It says the embassy will offer what it calls "destruction support" between 8.30am and 4pm until further notice.
"These destruction methods are not appropriate for weapons, ammunition and similar items," it reads.