Modern-day great Eddie Betts has confirmed he will play his 350th and last AFL game against Greater Western Sydney this weekend.
Betts, 34, made the announcement via his social media channels after telling Carlton teammates on Monday night.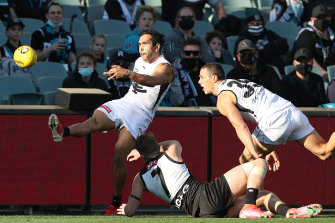 "Thanks for sticking by me through the highs and lows," Betts wrote.
"I hope at some point in my career I was able to put a smile on your face. If I did, I'm happy and my work is done here.
"Thank you to @carlton_fc & @adelaide_fc clubs, fans, especially staff, coaches and players and their families and all fans of our game. To all the people who played a part in my career, it could never be done on my own."
Betts, a three-time All-Australian, retires as one of the AFL's greatest small forwards, having kicked 638 goals from 349 matches to date with the Crows and Blues.
"My family, back home for teaching and raising me that it's always important to look out for others and be selfless in the way we go about things. We will only get better if we look after each other. You got me here," he continued.