Less than six weeks ago, Biden told Americans that, after the US withdrawal from Afghanistan, "The likelihood there's going to be the Taliban overrunning everything and owning the whole country is highly unlikely."
In recent days, Defence Department spokesman John Kirby claimed that Kabul was not "in an imminent threat", described the situation in Kabul as "calm" and said the US had no plans to close its embassy.
Now, the Taliban is controlling Kabul, the situation is anything but calm and the US embassy has been evacuated.
When Biden fronts the nation this week, he should choose harsh realism over false optimism as he outlines where things go from here. The American people, and the world, deserve the truth.
The most immediate task is safely evacuating Americans and Afghans who assisted the US war effort. The White House has reportedly had to reduce the number of flights available for Afghan interpreters and other workers to prioritise the safe return of its citizens.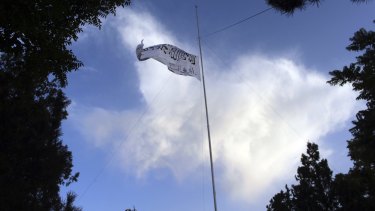 The United Nations is warning of a looming "humanitarian catastrophe" as the Taliban rolls back human rights, especially for women and girls.
A refugee crisis is possible as fleeing Afghans spill out into neighbouring countries such as Iran. Approximately 400,000 Afghan civilians have been forced from their homes since the start of the year, UN officials have said.
Longer term, there is the national security threat that Afghanistan will again become an inspiration, and a haven, for jihadist terrorists as it was before the September 11 attacks.
Mark Milley, the chairman of the Joint Chiefs of Staff, told senators on a briefing call on Monday (AEST) that the US could soon face an increased possibility of terrorist threats from Afghanistan.
In June, Defence leaders said that an extremist group such as al-Qaeda might be able to rebuild in Afghanistan and pose a threat to US homeland security within two years of the American military's withdrawal.
Officials now believe such terrorist groups could be able to grow much faster than expected.
Ryan Crocker, who served as US ambassador to Afghanistan during the Obama era, warned that the resurgence of the Taliban would provide a "huge shot in the arm" for extremists around the world.
Loading
The Biden administration may be hastily leaving Afghanistan, but it won't be able to hide from the consequences of that decision.
Get a note direct from our foreign correspondents on what's making headlines around the world. Sign up for the weekly What in the World newsletter here.