The popular Darwin Festival, which was scheduled to run for several more days, has attracted even more people from non-hotspot states.
Loading
The festival has been suspended with news of the new case. So has the pre-polling for local government elections. Large stores such as Bunnings can only sell goods through click and collect.
Along with the usual stay-at-home orders now familiar to every state and territory, including a five kilometre travel limit, Mr Gunner told people to stick to walking when exercising so as not to expel excessive air.
"Take a break from the burpees and the sprints for a couple of days," he said.
For more than any other reason, the hard and fast response is because the Northern Territory is home to the most vulnerable Australians. Close to a third of the population is Aboriginal, many with chronic disease and many living in overcrowded homes in remote communities.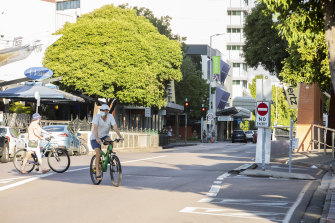 Coming out of the previous scare, Mr Gunner was emotional describing the dodged "nightmare scenario".
"One case is let loose in Darwin or Alice for a few days, two or three catch it, it reaches our Indigenous population, then it's carried into remote community," he said.
This scenario is live again.
The latest case arrived in Darwin for legitimate work purposes on Thursday and visited several CBD locations before driving a hire car to Katherine, where he is isolating under the watch of health staff and police.
It is not yet known if he has the Delta variant.
"When we don't know everything, we have to start by assuming the worst," Mr Gunner said.
In the Darwin heat on Monday, masks were out within minutes of the lockdown announcement. The CBD emptied and rattled tourists now stranded lined up in hotel lobbies.