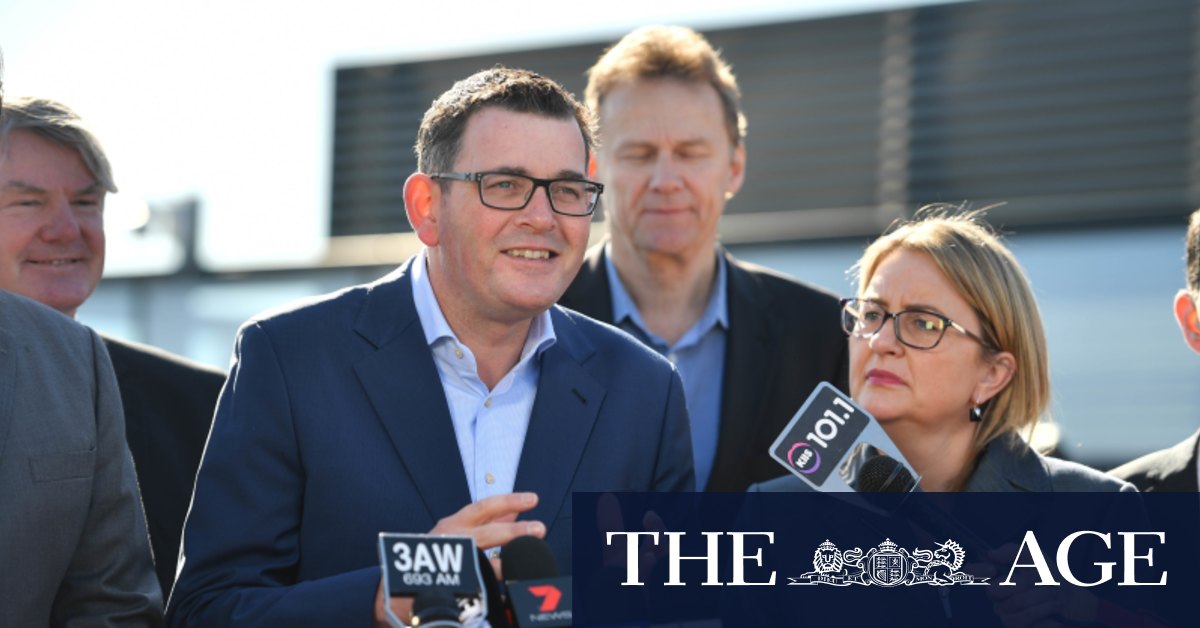 The Coalition is open to allowing an independent MP to chair its proposed committee and is willing to tailor the model of the committee to suit the wishes of the crossbench.
Loading
Its move comes amid revelations in The Age that the state's most expensive infrastructure project – the $50 billion Suburban Rail Loop – was promised to voters before the 2018 election without a strong planning, transport and economic case.
The project, originally codenamed Operation Halo, was shrouded in secrecy. Consultants on the project were legally gagged from talking about it, while the state's most senior transport bureaucrat and the government agency tasked with overseeing it were kept in the dark until it was announced.
Victoria's Auditor-General and think-tank the Grattan Institute have raised concerns about a lack of oversight of the government's multibillion-dollar "Big Build" agenda, as project costs skyrocket and timelines are stretched for new infrastructure set to cost about $81 billion.
It was revealed last week that the $6.7 billion West Gate Tunnel project may have blown out to as much as $11.9 billion — more than double the original $5.5 billion estimate.
Loading
Tolling giant Transurban estimates the project's contaminated soil crisis has led to a $3.3 billion blowout, with the project's builders estimating costs have risen by as much as $5.2 billion.
Last year, the government revealed the $11 billion Metro Tunnel blew out by $2.7 billion, with taxpayers forking out $1.37 billion to end a protracted dispute over project costs.
Grattan Institute transport and cities director Marion Terrill said she believed the public works committee was long overdue. "There's a lot of merit in having major projects subjected to a higher level of scrutiny than is currently the case."
She said it was wrong that taxpayers only found out about cost overruns on projects when companies such as Transurban revealed them because of their obligations under Australia's sharemarket disclosure laws.
"It would be really good if taxpayers were afforded a similar level of disclosure on public projects," Ms Terrill said.
The new committee would inquire into any existing or proposed project worth more than $10 million. It would probe the purpose and suitability, value for money, necessity, suitability and public value of the project. It could also examine the impact of the project on the environment, local community and broader economy.
Victoria had a comparable committee that was abolished in 1982. Public works committees exist in the Federal Parliament and state parliaments in NSW, Queensland, South Australia and Tasmania. The Commonwealth's committee recently investigated the $500 million Australian War Memorial redevelopment and the NSW committee examined the Berejiklian government's controversial $730 million plan to knock down Allianz Stadium.
The Greens also plan to introduce an amendment to the Transport Integration Act 2010 on Tuesday that would require a policy shift away from car-based transport and a more significant take-up of cleaner options such as public transport, walking and cycling, in addition to new transport emission targets.
A copy of the state's transport plan would have to be tabled in Parliament — a call that responds to a recent Auditor-General report revealing the state lacks an overarching transport plan, despite this being required by law.
Loading
A government spokeswoman accused the Liberals of thwarting infrastructure projects that Victorians needed. She also said an existing body, the economy and infrastructure committee, already fulfilled the function of the committee the Coalition wants to create.
"Victorians would remember that the Liberal Nationals did nothing, and whether it's level-crossing removals, the Metro Tunnel, North East Link or Suburban Rail Loop – they oppose everything," she said.
The Morning Edition newsletter is our guide to the day's most important and interesting stories, analysis and insights. Sign up here.