The recent national expose on right-wing extremists seeking to achieve radical political change through violence parallels ASIO's warning of a national escalation in right-wing extremism. These extremists' commitment to paramilitary training and, especially, a desire to acquire weapons should worry us all.
Contemporary right-wing extremism in Australia is a radically anti-democratic movement. Their aim is to erode faith and trust in Australian democracy, no matter which political party is in power.
Collectively, we have conducted comprehensive research into right-wing extremism in Australia. We identified two distinct yet connected threats posed by this growing movement. It is important to understand and respond to both if we are serious as a nation in addressing this corrosive form of violent extremism.
The first is a creeping threat to our social fabric arising from a strategy of "playing the long game". This means shifting the parameters of acceptable political and social discourse to a point where it challenges political and social norms, most importantly our acceptance of a diverse and functioning multicultural democracy. The promotion of white supremacy and rejection of equality clearly leads to the end of a democratic Australia as we know it. This end-state, they believe, can be accelerated by undermining trust in democratic institutions and exploiting cracks in social cohesion, including the current tensions caused by COVID-19.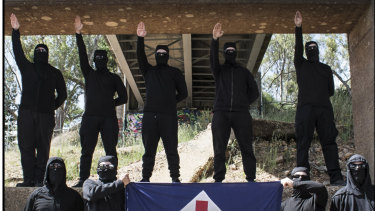 The second threat is that of real-world violence perpetrated by armed extremists. As we saw in the Christchurch terrorist attack, there are individuals who celebrate and advocate the use of violence to promote their cause, undermine trust in social and governmental institutions, and achieve eventual revolution. Our research has documented how online communities function as places of inspiration and encouragement for right-wing extremist communities and individuals, some of whom go on to commit violent acts.
It is clear from our research that right-wing extremists are opportunistic. They routinely seek to appropriate conservative political narratives and beliefs to provide a facade of legitimacy for their radical political agenda. Given these two threats, and the civil unease resulting from the COVID-19 pandemic, as a society, we need to stop and reflect on what we want our liberal democracy to look like.
They routinely seek to appropriate conservative political narratives to provide a facade of legitimacy for their radical political agenda.
Right-wing extremist movements take their cues from the opportunities provided by the increasing reliance on hyper-polarised political debate. When our leaders use dog-whistle politics to construct certain sections of Australian society as perennial outsiders, they send messages of legitimacy to right-wing extremists and provide them with political opportunity to present themselves as a realistic alternative to the mainstream. Consistently, Islamic leaders have called out the misappropriation of their faith by violent extremist groups such as Al-Qaeda and Islamic State. It is the responsibility of conservative leaders to do the same now that right-wing extremists are gaining ground and seeking to pervert conservative values for radical violence.