A year after labelling Cricket Australia "the most incompetent administration I've ever worked with" amid his pursuit of a reduction in rights fees, Seven West Media's chief executive James Warburton has all but declared peace in our time.
Seven's campaign for a discount to its share in a $1.18 billion rights deal, signed with CA alongside Foxtel in 2018, was loud and sustained, but foundered when a full schedule of cricket was completed in spite of COVID-19, while at the same time the broadcaster's balance sheet was improved by healthier than expected advertising revenue over the remainder of the 2020-21 financial year.
Warburton's demand for an independent arbitrator to assess the value of the broadcast contract resulted in a February finding that only a tiny discount was merited. But Seven's broader financial position has improved considerably thanks to strong audiences both for last summer's India tour and also for the men's and women's Big Bash Leagues.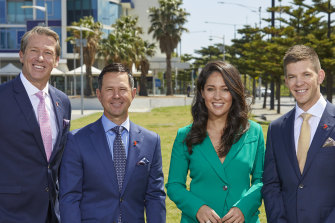 "Last year was a very difficult year for us," Warburton told The Age and the Sydney Morning Herald. "We lost all of the content in November, which is one of the biggest months of the year. We went through the process with the expert, the discovery process has been run – we are waiting for a judgement.
"Nick Hockley is now the CEO of that organisation, and we've sat down, we've broken bread, and we are going to absolutely support cricket over this summer, with the Ashes and the BBL, and do everything we possibly can to drive the best possible result. The relationship is in good order from that perspective."
While Seven have stopped short of total climbdown from their adversarial position, by continuing to wait for a judgement on their pre-discovery action in the Federal court, relationships between the broadcaster and CA have grown at executive and board levels to match the fruitful partnerships shared among the respective operational and production teams.
In addition to Warburton's talks with Hockley, Seven's multi-billionaire chairman Kerry Stokes has also met with CA's chair Earl Eddings this year. Warburton said that CA's record of successfully staging a first COVID-19 summer brought confidence that similar feats would be achieved this time around in a season that will feature the Ashes.
"We are spoilt for sport this year with not just the AFL, Supercars and Olympics, but an exciting horse racing line-up and the Ashes Test series," Warburton wrote in Seven's annual report. "While we had a disagreement with Cricket Australia during 2020–21, this relationship is improving. We are working with them to improve the Big Bash, and we are very much look forward to this summer's Ashes Test series."