Eddie Betts says he is prouder of his anti-racism stance than anything he has achieved on the field but laments what he feels remains an unsafe working environment for Indigenous AFL players.
The Indigenous great announced on Monday night that he would retire after playing Saturday night's game for Carlton against Greater Western Sydney, his 350th at the elite level across two stints with the Blues and six years at Adelaide.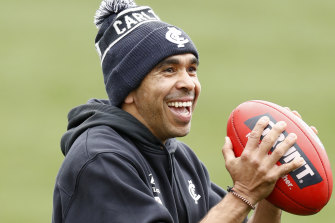 Betts has thrilled crowds across his 17-year career, kicking 638 goals, many of which have been outrageously converted.
But speaking on Tuesday, Betts said he was proudest of his five children and his activism, speaking of how he had been inspired by Adam Goodes' struggle against racism at the end of the Sydney champion's career.
"He gave me that voice and that strength to stand up and talk about and believe in myself and have the strength and courage to stamp out racism here in Australia, to call it out when I see it and educate people," Betts said.
Betts, 34, acknowledged that the landscape for Indigenous players remained treacherous, in light of a bevy of racially motivated online trolling incidents this season and former Adelaide captain Taylor Walker's recent slur directed at ex-St Kilda player Robbie Young.
"I don't feel like it's safe at the moment. I honestly don't. I feel like there's still a lot of racism, and this year there has been a lot of racism. It's been draining and it's been tiring. Every year we see myself and the other Aboriginal boys standing up, trying to call it out, trying to make a stance," Betts said.
"We've got to be stronger. We've got to somehow catch these people and keep them accountable for what they say online or over the fence. It has been really tough and really draining, and that's why I told everyone last week that I need everyone's help. I'm not the one that's going to make change. It's not on Aboriginal people here in Australia that's going to make the change. It's you guys that are going to make the change. It's for people to start calling it out, having those conversations.