Australia's largest private hospital group, Ramsay Health Care, said they have "rapidly answered the call from the state government" to provide 300 staff seconded to work in health accommodation, mass vaccination hubs and public hospitals.
While many people with COVID-19 can effectively isolate at home, a spokesperson said cases and contacts are offered the Special Health Accommodation if they are "unable to isolate effectively at home or need additional care or support, including those from large household groups".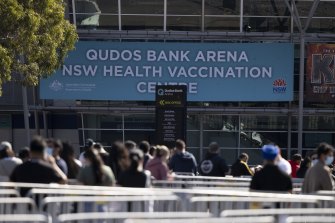 Suburbs in south-west and western Sydney account for around 85 per cent of all active cases, prompting the government to launch a "vaccination blitz" to inoculate half a million residents in those areas in two and a half weeks.
Blacktown, Seven Hills, Merrylands, Guildford, Auburn, Bankstown and Greenacre are among the suburbs generating the most cases, while 75 per cent of new cases are under the age of 40.
Around 530,000 extra Pfizer doses which arrived from Poland this week are being administered to people aged 16 to 39 who live in the 12 hot spot local government areas.
Dr Susan Pearce, who has been running NSW's vaccination effort, said the department was throwing "every single thing we've got" at getting the vaccines into arms.
Up to 350 stood-down Qantas workers have been called on to help staff the Qudos Bank Arena vaccination hub, where opening hours will be extended, running 7am to midnight. Sydney Olympic Park vaccination hub will operate from 7.30am to 9.15pm.
NSW Health approached Qantas after it recently stood down additional workers, seeking assistance in logistics and administrative roles at the Olympic Park venue for 10 to 14 days.
A Qantas spokeswoman said workers who had been stood down were in high demand for temporary secondary employment, with many having already stepped into NSW Health roles in contact tracing and at testing hubs last year.
"Our cabin crew, lounge and airport people, in particular, have widely recognised customer service skills which are suited to this type of work," the spokeswoman said.
About 180 staff from private hospital operator Healthscope have also been used to fill roles in NSW vaccination hubs, including 90 staff at Qudos Bank Arena.
A Healthscope spokesperson said Sydney South West Private, Prince of Wales Private, Nepean Private, Norwest Private, Newcastle Private and Hunter Valley Private are working with the state's health districts to take on urgent elective surgery cases.
The Premier on Tuesday said mass vaccination was the key to the state's path out of lockdown, insisting NSW was on track to deliver 6 million jabs, or 50 per cent, by the end of August. The state has delivered 5.2 million jabs so far.
"Once we get to six million jabs, we will be able to consider opportunities for what we might be able to do in September and October," Ms Berejiklian said, adding, "they will be our most difficult months."
Ms Berejiklian said she would outline plans for September and October closer to August 28, based on case numbers in areas of concern.
"Life will be much freer than what it is today once we get to 70 per cent. It doesn't mean we'll be completely free. It doesn't mean that we will let the virus run rampant in the community … but it will be freer than what it is today," she said.
Loading
"Our challenge is to make sure that we keep vaccination rates up because the more people [who] are vaccinated, the less likelihood of hospitalisation and the less likelihood of death."
NSW Health Minister Brad Hazzard said there was no question the state's hospital system was under enormous pressure across NSW, with exposures at Nepean, Canterbury-Bankstown and St George hospitals.
"Unfortunately, a lot of our health staff are finding that they are on the receiving end of having to be taken offline because they are potentially exposed," he said, urging the community to be tolerant.
"It's the biggest health system in the country. It deals with more patients than anybody else, so you'd expect that in the middle of a pandemic there will be cases that come into hospitals."
Stay across the most crucial developments related to the pandemic with the Coronavirus Update. Sign up for the weekly newsletter.