"It's disappointing we couldn't be there with her but, for the sake of the safety of the world, that's how it had to be."
McKeown had another guest alongside her mum Sharon. It was her faithful dachshund Ottis, who was covered in green and gold tinsel.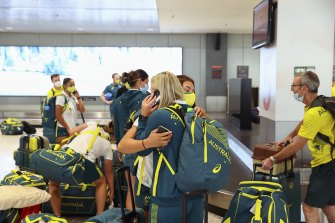 "To see my family is just unreal and being in quarantine for two weeks, it's all you look forward to," McKeown said. "It's been a surreal experience."
In Sydney, the atmosphere was insipid as 25 team members arrived at a largely deserted airport from Darwin via Alice Springs. Their sports included trampoline, table tennis, rugby sevens and swimming but there was no fanfare amid the lockdown.
One of those arriving was Emma McKeon, the champion swimmer who rewrote the record books in Tokyo with a haul of seven medals, four of them gold. It made her Australia's most decorated Olympian at a single Games and the most successful of all time, with 11 medals in total across Rio and Tokyo.
That kind of performance would normally see her walk out of the plane into a hangar full of supporters. Not even her family was allowed to wait on this occasion, with the 27-year-old spirited away by a driver to her loved ones in Wollongong.
"It's starting to [sink in], but probably not," McKeon told Seven News. "When I was packing my bags, I thought 'that's a lot of medals'."
McKeon said she was already eyeing the Paris Olympics in 2024.
"I hope to be there. It's only three years away. We waited five years for this one, so three years isn't long," she said.
Loading
A further 21 team members returned to Melbourne, another city in lockdown, and six made their way to Perth. Many of those athletes, coaches and support staff have been on the biggest road trips of all. Some spent almost five months away from home as they hopped from state to state to avoid border restrictions before the Games.
Butterfly specialist Brianna Throssell was uprooted to Queensland, spending time in the state's south-east before joining the rest of the squad in Cairns for a pre-departure camp. She posted on social media that she had slept in 15 different beds, and trained and raced in 15 different pools.
Sports news, results and expert commentary. Sign up for our Sport newsletter.