Magellan's chief investment officer Hamish Douglass has acknowledged mistakes were made during the last financial year but defended the group's diversification strategy, after the ASX-listed fund manager posted soft full-year numbers.
The Sydney-based investment powerhouse on Tuesday reported its full-year profits had fallen by one-third to $265.2 million and declared shareholders would receive a trimmed final dividend of $2.11 per share, 2 per cent lower than the previous year.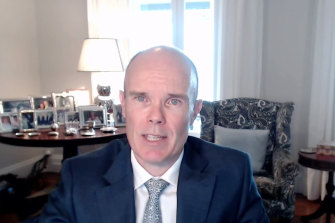 The curbed profits were driven by a 63 per cent decline in performance fees, after its flagship global equities fund returned 10.8 per cent for the year, underperforming the market by 16.8 per cent. Magellan's Australian equities fund Airlie beat the market by 5.9 per cent but its listed infrastructure fund also under-performed by 9.3 per cent.
Investors punished the company for the results, pushing Magellan's shares down 10.15 per cent to $46.20.
Mr Douglass said the fund had consistently outperformed during market downturns and underperformed during upswings, such as the COVID-19 bounce back, but called on investors to see the bigger picture.
Loading
"If we underperformed when the markets went down, I'll be honest with you, we have a problem. It hasn't happened," Mr Douglass said. "Did I get a few things wrong in the past 12 months? Yes… In no way am I perfect here, I didn't put enough risk on before the vaccine results."
Mr Douglass added the global equities fund was negatively impacted by events in China, following the Communist Party's regulatory crackdown and souring relations with the West. "China has been a bit of a challenging place, we had about 10 per cent of our strategy, it's less now."
However, Magellan sought to diversify its funds management operations over the year by launching a series of low-cost investment funds, a retirement product and a sustainable fund that Mr Douglass said should secure institutional mandates within the next three months.