"It is a very broad and disparate range of people."
He said he believed the sex worker and one of her acquaintances, also included in Tuesday's case numbers, tested positive to coronavirus after they arrived at an emergency department.
He said both cases were homeless or transient, and had been making use of a rooming house in the St Kilda area before they were moved to safe and secure accommodation.
Mr Weimar urged everyone in the St Kilda area to get tested for COVID-19.
"We are exceptionally concerned about what we don't know [yet] in that area," he said.
"There are clearly a number of chains of transmission that we do not yet have full pictures of, and we really want to use the next few days to get a full understanding of any possible transmissions that might be happening in that wider area."
Mr Weimar said specialist health teams had been deployed to the St Kilda area.
On Wednesday afternoon health authorities added more tier-1 exposure sites to the expanding government list. Prahran Midnight Pharmacy, in Prahran, was exposed on August 14, and Elsternwick Westpac branch on August 12.
Authorities also added two tier-2 sites, one at Zahras Halal Meats in Altona North on August 15, and the other at 4Cyte Pathology in Glenroy on August 7 and August 12.
Foley defends playground closures while childcare centres remain open
Mr Foley also revealed almost half of Victoria's active coronavirus cases were young people.
There are currently 246 active coronavirus cases across the state, with 56 under the age of nine and 55 aged between 10 and 19.
However, Mr Foley defended the closure of playgrounds while childcare centres remain open, describing the latter as a "controlled environment".
"They have quite strict protocols in place … both federally and at the state level," Mr Foley said.
"I think there's always a difference between a regulated controlled environment, and an unregulated environment."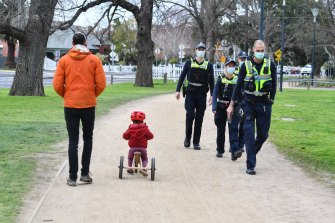 He said playgrounds and childcare centres were qualitatively different, and noted the Delta variant had already spread in outdoor areas.
He said a skate park in Melbourne's north had been declared a COVID-19 exposure site.
Loading
"We have to work on the basis of public health advice and the evidence," Mr Foley said.
"In regards to playgrounds, I think the evidence is that we've got 110 young people already infectious. Young people and kids, in particular, hang out in playgrounds. It's a risky transmission site."
Victoria Police Deputy Commissioner Rick Nugent said "our members haven't been tasked to police playgrounds at all".
"What we are asking our police to do is to ensure that the community complies with the directions that are put in place to prevent the spread of the virus," Mr Nugent said.
"It's really important for our members to be out there being visible in the community, being active in the community, engaging with the community to ensure that they do comply with those directions."
Mr Nugent said he thought it would be highly unlikely that police officers would issue a fine to someone at a playground.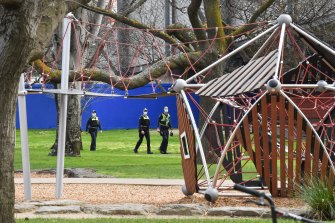 Playgrounds were closed as part of tougher new lockdown restrictions for Melbourne that came into effect 1t 11.59pm on Monday.
Mr Nugent said police had issued 47 fines for COVID-related breaches in the 24 hours to noon on Wednesday.
Four mystery cases among new infections
Of the new local COVID-19 cases recorded in the 24 hours to midnight on Tuesday, 20 were linked to known outbreaks and 18 were isolating for their entire infectious periods.
There are now 12 people with COVID-19 in Victorian hospitals with two in intensive care.
The new cases include:
10 cases linked to Al-Taqwa College: three students and seven household contacts;
Four cases linked to Glenroy West Primary School: all household contacts;
Two cases linked to Caroline Springs: both work at the CS Square shopping centre;
One case who is a household contact linked to the Newport Football Club;
Two cases who are residents of a Lygon Street residential tower;
One case linked to the Western Autistic School in Laverton;
Four cases unlinked to existing clusters: two in Altona North, one in Glenroy, one a teenager; from Glen Eira who works at a pizza shop in Malvern East.
Exposure sites top 520
A second Lygon Street residential tower has also been added to the state's growing list of COVID-19 exposure sites.
The Department of Health declared the residential tower at 510 Lygon Street a tier-2 exposure site on Tuesday night.
That means anyone who was on site between Saturday, August 14 and Tuesday, August 17 must urgently get tested for COVID-19, and isolate until they receive a negative result.
Loading
However, the Health Department said some individuals at the tower would be classified as tier 1 close contacts, meaning they must get tested and quarantine for 14 days, regardless of their test result.
The department said it would contact those tier-1 contacts directly.
The residential tower is the second on Lygon Street to be declared an exposure site in the past week.
On Sunday, authorities listed the public housing tower at 480 Lygon Street as a tier-2 exposure site for more than a week, although they warned some residents would be classified as close contacts.
Another three tier-2 exposure sites were listed late on Tuesday evening: a 7-Eleven at Flemington, a skate park at Jacana in Melbourne's north and Bakers Delight in Ashburton, in the city's south-east.
Authorised worker permits required again in Melbourne
Authorised worker permits are now in effect for Melburnians.
Authorised workers must carry their permits, signed by their employers, when travelling to and from their workplaces. Businesses can be fined up to nearly $110,000 if they issue permits to employees who aren't eligible for the worker permit scheme.
On-the-spot fines of $1817 will also apply to individuals, while businesses face $11,000 if they breach the scheme requirements.
More than 39,832 coronavirus test results were processed on Tuesday, while more than 27,173 people rolled up their sleeves for a COVID-19 vaccine at a state-run clinic. Victoria recorded no new overseas-acquired cases of COVID-19 in hotel quarantine.
Stay across the most crucial developments related to the pandemic with the Coronavirus Update. Sign up for the weekly newsletter.