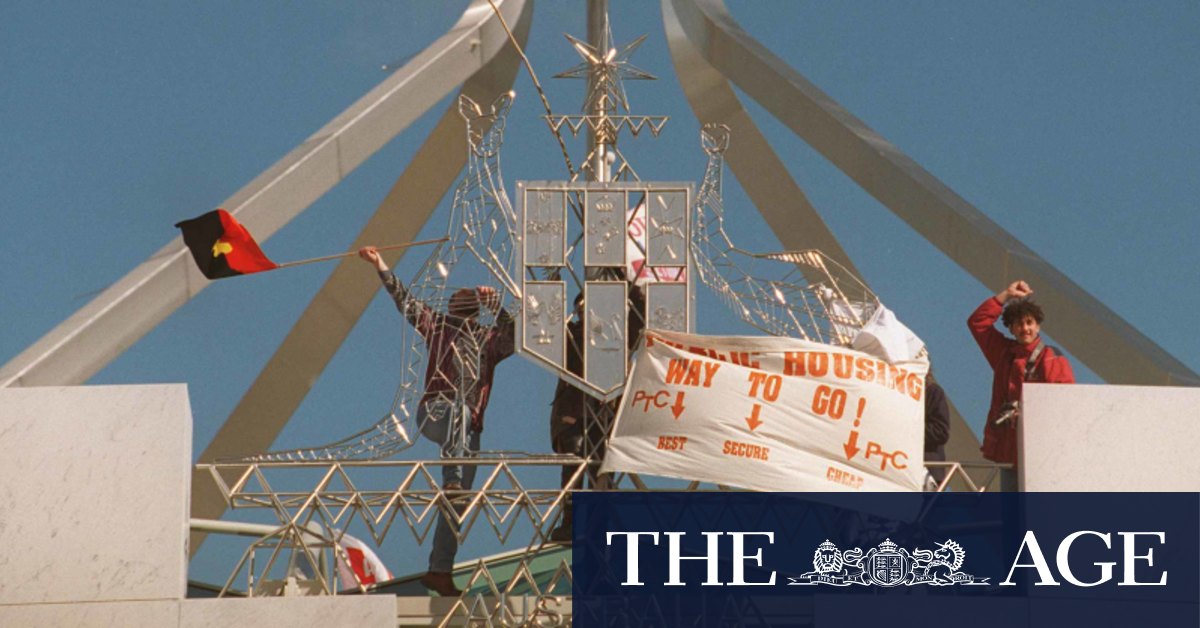 About 70 of the 300 police holding back the demonstrators were injured, including two who were treated in hospital for broken ribs.
Parliament's gift shop was trashed when about 50 protesters forced their way in in an effort to outflank police at the front doors.
Loading
The violence began when a group of flag-waving Aboriginal demonstrators, joined by unionists, broke away from the main body of about 20,000 being addressed by the ACTU president, Ms Jennie George, and the Opposition Leader, Mr Kim Beazley.
Ms George said union leaders were not responsible for the violence, while the ACTU secretary, Mr Bill Kelty, said the turnout meant the demonstration was "the most successful rally in the history of this country".
Mr Howard terminated a meeting with rally leaders after only seven minutes following an inspection of the damaged foyer, where door frames bent under the protesters' weight.
He said the violence was "un-Australian and ugly" and vowed that his Government would not buckle to the demands of protesters on today's Budget or its industrial relations plans.
"It is a very sad and unhappy day in the life of the Australian Parliament, and those responsible for today's demonstration should feel utterly ashamed of themselves," he said.
Loading
"I don't believe for a moment that those people who smashed their way into Parliament House in any way represent the feelings of mainstream Australia. I think what they did this afternoon will be greeted with revulsion by mainstream Australia."
Ms George said she told Mr Howard she resented his inferences that the ACTU was responsible for the violence.
Mr Beazley distanced himself from the violence, which he said reflected "real distress, real public anger" at the Government's Budget and industrial plans. "You don't express your anger by knocking over the front doors of Parliament or knocking over policemen," he said.