"Regionally, we've been lucky to be out of the main lockdown for over a week now," she said. "But anything can happen to change that. We all need to be very careful."
Loading
Bendigo Tourism Board chairman Finn Vedelsby said he lost 20 per cent of bookings at his venue, The Dispensary, in one night when he rang ahead to tell customers they needed to show ID confirming they lived in regional Victoria.
"It's worse than frustrating," he said. "It's frightening. People clearly are not following the rules and there are still untraced cases in Melbourne."
He said operators would seek advice in a meeting with police scheduled for Monday next week.
Mr Vedelsby said other business owners had been forced to turn away even higher numbers of people thought to be Melburnians. "People are trying to escape."
Victoria Police Deputy Commissioner Rick Nugent said there were 200 officers patrolling the border of Greater Melbourne and regional Victoria every day. "At the same time we have our police divisional vans and patrol cars in all of those regional areas, more particularly the tourist-type areas."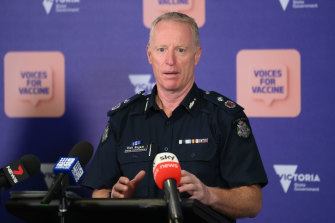 He confirmed police had issued just one fine overnight into Wednesday to someone attempting to enter regional Victoria from Melbourne.
Mr Nugent said police were identifying cars registered in Melbourne and conducting checks. He said police were targeting areas including Daylesford, Trentham, Mornington Peninsula and the Dandenongs.
Hepburn Shire mayor Lesley Hewitt said some shop and restaurant owners in Daylesford had reported turning people away. "Our businesses have been very diligent in checking photo ID and making sure people check in," she said.
The Geelong and Bellarine Peninsula regions have experienced similar issues. Greater Geelong mayor Stephanie Asher said local businesspeople had reported unpleasant encounters with Melburnians.
"We certainly have had local shop owners and employees who've had to turn people away," she said. "Sometimes they've received abuse for that, which is unfortunate."
Bass Coast Shire chief executive Ali Wastie said Melburnians had tried to gain entry to venues in her council area despite a strong police presence. "I know it's an issue," she said.
The Morning Edition newsletter is our guide to the day's most important and interesting stories, analysis and insights. Sign up here.