That's it for today, thanks for reading and engaging. Here's a quick recap of the day:
We'll be back in the morning. Have a good evening.
Victoria's exposure site list continues to grow with authorities adding several new sites that have been visited by a positive case including a bakery, train line, service station and fast food outlets throughout Melbourne.
The Laverton train line and the bus replacement service running between North Williamstown and Newport stations were both visited by a case on August 11. The Laverton train line is listed as a tier-2 site while the bus replacement is now a tier-1.
Two BP service stations have been listed. BP Williamstown, which is in Newport, was visited by a positive case on August 10 and is now a tier-2 site, while BP Tullamarine was visited by a case on August 5, and is also a tier-2 site.
A KFC in Port Melbourne has also been added for an exposure that occurred on August 15, but is only a tier-3 site.
Several new sites in Altona North, at one of the first locations in this outbreak, have also been added.
The Commonwealth Bank ATM in Borrack Square on August 10 was visited by a positive case and is now a tier-2, as is the Sushi Sushi in shopping centre Altona Gate.
Authorities also added two new tier-2 sites in Ashburton, one at Bakers Delight and the other at fast food outlet Chicken Central, both on August 16.
The exposure site list is updated frequently. View the full list of exposure sites here.
A Campsie apartment block has been forced into lockdown after nine residents tested positive to COVID-19.
A Sydney Local Health District spokeswoman said the cases were identified across five apartments in the block of 12 units in south-west Sydney.
Some people who have tested positive have been transferred to special health accommodation while all residents will be required to isolate for 14 days.
"Sydney Local Health District is working with residents and building management to assess
the situation and, in collaboration with other agencies including NSW Police, is
implementing measures to support the health and welfare of residents," the spokeswoman said.
That's it for today, thanks for reading and engaging. Here's a quick recap of the day:
We'll be back in the morning. Have a good evening.
This infographic shows how Sydney's COVID cases have spread through the city since the outbreak began two months ago.
The map shows how the virus spread from the east – where the outbreak began – to the west and south-west.
The data is broken down by weeks, and by local government area.
You can see how cases in Penrith, Blacktown and Cumberland councils have doubled in the past week. In contrast, Fairfield – the area of most concern initially – only recorded an increase of 19 per cent in the past week.
Rewinding to earlier this morning, former prime minister John Howard criticised the withdrawal of all troops from Afghanistan by the United States as leaving "a lot to be desired".
Speaking on Sydney radio station 2GB, Mr Howard, who sent Australian troops into Afghanistan, said he feared for the future of the country and human rights.
He said the Taliban had made a "few soothing noises" but the world should wait and see.
"I worry that some of the real advances that were made for women and girls and generally in human rights in Afghanistan will be lost," he said, adding the previous government running the country was not perfect either.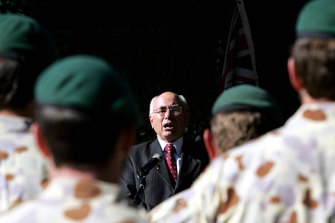 While he acknowledged very few people expected such a rapid collapse – and he said the United States could not have stayed in Afghanistan forever – he was scathing of both sides of politics for their handling of the withdrawal of troops saying it "leaves a lot to be desired".
"It's fair to say though the Americans were wrong to feel the only way of getting out was to withdraw every last troop, every last soldier, by the nominated deadline. It's possible to retain a presence in a country in which you've been engaged militarily for many years after the military conflict ends," Mr Howard said.
"I mean it's decades since the Korean War ended but the US still has tens of thousands of troops in South Korea."
He said the 20 years had not been in vain and there had not been as bad a terrorism event as September 11, though he agreed with former US President Donald Trump's assessment that the Afghanistan exit now was an "embarrassment".
"But I also think in relation to the former President … he can't escape blame. He made the terrible mistake of saying America was going before he secured any kind of understanding or deal with the Taliban and that's a pretty ordinary way of negotiating with a ruthless mob like that," he said.
Mr Howard said it was too early to judge the Australian government's handling of the crisis, but said "we must do everything we can" to repatriate people.
Victorian COVID-19 response commander Jeroen Weimar has apologised to Melbourne's Jewish population after he mentioned members of the Orthodox Jewish community were among those who tested positive during a coronavirus briefing yesterday.
"We have accountants, we have architects, we have a sex worker, we have members of the Orthodox Jewish community, and we have a pizza guy who worked in a pizza shop in Glen Eira," Mr Weimar said.
In a message sent to the Anti-Defamation Commission, a Jewish-Australian community organisation, Mr Weimar said he was "hugely disappointed" his words were interpreted as a criticism.
"I am sorry for my poor choice of words yesterday," Mr Weimar said. "I was attempting to highlight the sheer diversity and range of people in the St Kilda area who were – through no fault of their own – COVID positive.
"I am hugely disappointed that my words have been interpreted as a slight or criticism of the Orthodox Jewish community – this was absolutely not intended. I apologise to Melbourne's Jewish community for the hurt and harm that my words have done."
Last week The Age revealed that an engagement party was held in breach of strict coronavirus restrictions in Melbourne's inner south-eastern suburbs. The video showed a gathering of people listening to a man giving an engagement speech to a crowded room of well-dressed guests at a private residence.
The video, which was sent by multiple sources from the Orthodox Jewish community, was investigated by health authorities and several people were fined.
Jewish organisations this week reported an increase in anti-Semitic messages and social media posts in the wake of news reports.
Dr Abramovich said the ADC unreservedly accepted Mr Weimar's apology, calling the gesture "sincere" and "heartfelt".
"During our lengthy conversation today, Mr Weimar heard mine and the community's concerns and immediately expressed his deep feelings of remorse, and we take him at his word when he says that he did not have any intent to cause hurt or offend," he said.
"While we understand that many people were upset with the choice of words used during the press conference, this is an important step in putting this issue to rest, and we now consider the matter closed."
On Tuesday, Premier Daniel Andrews stressed that the party attended was not a reflection on that community as a whole.
The Therapeutic Goods Administration has approved AstraZeneca's submission to change the name of its COVID-19 vaccine in line with it's called in Europe and Canada.
Vaxzevria, if you can pronounce that.
"The use of the Vaxzevria brand name should help simplify international travel for people vaccinated with AstraZeneca's vaccine," the pharmaceuticals company said in a statement.
Australia's drug regulator said the change in name is expected to "alleviate confusion and further clarify that the vaccine produced by CSL and Seqirus in Melbourne is the same as that produced internationally".
"Importantly, this is the only change to the vaccine. All other aspects, such as manufacturing and quality control, are unchanged and align with the way the vaccine is produced in other jurisdictions," the TGA said.
At this stage, it is estimated that supply in Australia of the Vaxzevria-branded product will start in late 2021.
Once supply of the vaccine commences under the new name, the vaccine will no longer be supplied under the original name but some stock with the original name may still be in use after the name change, the TGA said.
However, it's likely the vaccine will still be colloquially called AstraZeneca, in the same way Pfizer's vaccine is officially called Comirnaty but nobody calls it that.
The Taliban has resumed its grip on power in Afghanistan after taking control of the capital, Kabul, on Sunday. The speed with which Taliban forces reclaimed the country has sparked chaotic scenes at Kabul's airport as Afghans, foreigners and diplomats try to flee.
For the past 20 years, young Afghans have grown up under a relatively liberal US-backed government, with access to education and work for girls and women, social media and other freedoms.
Does anyone really expect Taliban 2.0 to be any different to the entity of 20 years ago and retain those freedoms? The early signs are ominous.
Overnight protests in Jalalabad province turned deadly, with Taliban gunmen killing several people and wounding more than a dozen others.
Today on Please Explain, world editor Michelle Griffin joins Bianca Hall to discuss the unfolding situation in Afghanistan and whether Western governments should have seen this coming.
A Sydney backpacker hostel is among new COVID-19 exposure sites listed by NSW Health.
Health authorities have stopped publishing venues visited by cases in Greater Sydney except for the most high-risk locations. Regional locations are still regularly updated.
Anyone who attended the following locations is a close contact (tier 1) and must get tested and isolate for 14 days:
Newtown – Summer House Backpackers – all day on August 12 and 13
Dubbo – Burger Urge – August 14 between 6.45pm and 7pm
Anyone who attended the following venue must get tested and isolate until receiving further advice:
Raymond Terrace – Woolworths – August 8 between 7.20am to 10.50am
All exposures sites are available to view here.
Immigration Minister Alex Hawke has not committed to match the UK and Canada's promise to bring in 20,000 Afghan refugees.
Mr Hawke told the ABC that Australia's promise to accept 3000 Afghan refugees will be a "floor" but wouldn't provide an estimate for how high the intake might ultimately be. This figure comes out of this year's existing humanitarian cap of 13,750 people.
"We know it will go up and it will be a bigger number and we will continue to update people as the humanitarian crisis and the situation evolves after the immediate emergency of the evacuation from Kabul," he said, adding families, minorities, women and girls would be prioritised.
There were 76 people evacuated overnight, including Australian citizens. Mr Hawke said some Australians had come forward in the past 24 to 48 hours and Australia had also offered New Zealand citizens passage.
Afghan nationals who worked in Defence or Foreign Affairs are being given the same priority as Australian citizens and permanent residents.
"Everyone has been caught short by the situation that is unfolding," he said.
Asked whether he thinks the Taliban have changed, he said he was "sceptical".
He said one test to determine whether the Taliban can be trusted is whether they meet their international obligations to the countries on the ground who are trying to evacuate people.
Meanwhile former SAS captain and federal MP Andrew Hastie has rebuked the notion Australia's rescue mission in Afghanistan is behind the eight-ball, saying the government resettled 430 Afghans in the past three months alone.
"Our government was ahead of the curve. We started packing up several weeks, months ago in fact," he told reporters in Perth.
Mr Hastie said "every interpreter who went out on the ground got shot at or exposed to roadside bombs" has had their case resolved by the government.
He said he was surprised at the speed at which the Taliban had wiped out the gains made by NATO forces in the country over the past two decades.