Rioli comeback quashed
West Coast Eagles coach Adam Simpson declared earlier on Thursday that Willie Rioli is back but won't be playing this weekend.
Rioli was going to play his first AFL game in two years in the club's final round clash with Brisbane Lions at the Gabba but he reported a tight hamstring this week so couldn't be selected.
The 26-year-old has completed a two-year suspension for tampering with a doping test.
Simpson won't rule out the prospect of Rioli playing in the WAFL in the weeks to come before going into pre-season training with the rest of the 2022 team.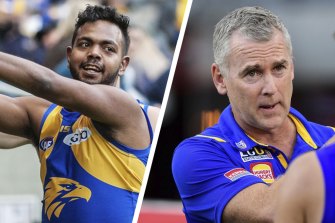 "Unfortunately he's got a tight hamstring, and he won't be available for AFL or WAFL this weekend which is disappointing," Simpson said on Thursday.
"He's pulled up with a tight hamstring a couple of days ago and, unfortunately, we can't play him as much as we all would love to.
"It's sort of the story of our season a little bit, on occasions when we're ready to bring people in, we either lose people or they don't get to the line.
"But it's been a really good process for him and the club in the last eight weeks, we are really proud of what he's done. He's got complete buy-in from our players and staff and he's back, you know, suspensions over. He just won't be playing this week."
Loading
There are still two rounds of the WAFL left after this weekend but Simpson admits he isn't sure whether Rioli will play in the remaining games and if he will be eligible to play in the WAFL finals.
But Simpson said the team was proud of the commitment Rioli has shown in training since returning to the club.
"It was always going to be a bonus for us [if he played in round 23]," Simpson said.
"If he doesn't play this year, then he can hit pre-season as hard as anyone.
"I think we were going to play him. Everyone was pretty keen to get him in. It's disappointing but not the end of the world.
"It's been a big journey for him, it's disappointing but he's dealt with more adversity than this."
Simpson confirmed Josh Kennedy and Jeremy McGovern won't play this weekend.
"Josh is banged up, he came back on with a compound fracture in his finger," Simpson said.
"McGovern has been carrying a hip injury for a long period of time, probably a couple of years.
"Eventually he will need surgery, he needs a week off now. We will wait and see how he pulls up after a week off but he will need surgery."