Perpetual chief executive Rob Adams says the fund manager is poised to cash in on a permanent shift towards investing that considers environmental, social and governance (ESG) issues, after a year of growth via acquisitions.
ESG issues such as carbon emissions are gaining more attention in markets and corporate boardrooms, thereby influencing companies' strategies, and Mr Adams on Thursday said the trend had much further to run.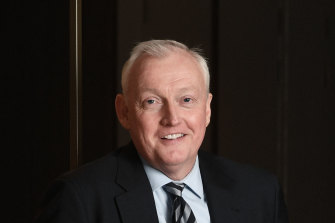 "My strong personal belief is that this is not a trend, it's a permanent feature that permeates every aspect of corporate management and investment management," he said.
"I think there's an increasing recognition that quality companies demonstrate that."
As ESG investing becomes increasingly mainstream some fund managers are reaping the rewards, with Perpetual's recently acquired Trillium business, an ESG specialist, a standout performer in the latest financial year.
In a result that was slightly ahead of market expectations, Perpetual delivered a 9 per cent decline in net profit after tax to $74.9 million, affected by one-off acquisition costs.
Revenue was up 31 per cent to $640.6 million, which reflected higher assets under management as a result of its purchases of US fund manager Barrow Hanley, and Trillium. The buyouts drove assets under management from $28.4 billion to $98.3 billion.
Trillium reported record net inflows, and Mr Adams said the entire company was well-placed to benefit from investors' ever-increasing focus on ESG and sustainability.
"As a money manger, every time we're pitching for new business unless we can easily show our approach to ESG and how we manage it in terms of our analysis of companies, we're not going to get past first base. Luckily Perpetual is well ahead of the curve," Mr Adams said.