A SANZAAR spokesperson said the report was conjecture but a European Rugby Championship would make more logical sense than South Africa, as crowds would be permitted and the Tests could provide much-needed revenue for southern hemisphere nations.
Each of the four southern hemisphere nations were set to play a spring tour after the tournament, too, and it would also stop Australia and New Zealand from having to complete two quarantine stints within a few months.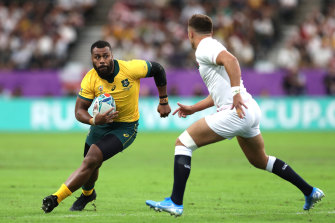 The only negative would be the time zone in which matches would be played. A decision on where and when the Rugby Championship will be played is expected to be made public by the end of the week.
Meanwhile, Samu Kerevi spoke to reporters for the first time since he joined the Wallabies squad from Perth.
Kerevi is one of a handful of players that will immediately benefit from changes to the Giteau Law and the star centre conceded he was excited by the thought of being available for the Wallabies more often.
"I've always been a fan of the Giteau Law. I think it's pretty awesome to have your top players here in Australia, competing and all of that," Kerevi said.
"But I think everyone from overseas, they always want to put on that gold jersey. They always put their hand up to have the opportunity.
"I can only speak for myself and it's a hard one. I'm enjoying my time in Japan, enjoying the competition that we have there and there is a lot of moving pieces. It's not just a decision to come back and put on the gold jersey.
"That's a big driver for guys outside of that Giteau Law. Again, I know there are a lot of guys passionate to play for a jersey but there are a lot of moving pieces to make the decision to either come back or stay overseas.