The Bulldogs and Power know tonight's game will have a bearing on where they finish on the ladder so expect nothing but the best from both clubs.
If the Bulldogs win they will make the top-four and earn a double-chance while they could climb to second place if Geelong loses to Melbourne or third if the Cats are victorious.
The Power should finish in the top-four, even if they lose tonight, unless their percentage takes a hit or Geelong's percentage surpasses the Power.
If the Power win they will earn a home qualifying final and they could even finish on top if Geelong beats the Demons and the Power make up the 1.3 per cent gap between them and the Demons.
A Bulldogs loss could see them drop to fifth if the Brisbane Lions beat the West Coast Eagles and improve their percentage by 1.8 per cent.
Bulldogs assistant coach Ash Hansen told AFL Tonight this evening his side knew plenty was at stake.
Everyone knows the outcome of this game is going to indicate where we are going to finish, it's certainly a great opportunity for a [young] team like us leading into the finals," Hansen told AFL Tonight this evening.
"A big focus this week has been on what we can do, not what we can't do.
"Certainly the body of work the boys have produced this year indicates their best is certainly good enough.
"We want them to find their best tonight."
Peter Ladhams has just kicked the bladder out of the Sherrin ball with a set-shot from 50m out, he has roosted it and it has gone through at post height.
The goal cuts the lead to 51-45 with three mins to go in Q3.
This contest is lifting and both sides are having their big game players come to the fore.
Weightman assisted in another goal, it was the third-straight goal this term in which he has had a hand, this time he received the ball and sent through a handball to the goal-square where Laitham Vandermeer just had to boot the goal.
But at the other end, Travis Boak has fired up and kicked a team-lifter from open play.
Dogs lead 51-39 with four mins left in Q3.
Cody Weightman is the kind of player who can burn for passages of games and he is putting his fingerprints all over this third term following his goal by winning the contested ball on the right-wing and running into attack where he sent a deep kick go English who took the mark and kicked the goal.
The Dogs now lead 45-33 with six mins left in Q3.
Cody Weightman had made the most after an error at half-back from the Power with Jack Macrae finding Weightman in the left pocket who went back confidently and kicked the goal.
Dogs lead 39-33 with eight mins left in Q3.
Power medical-sub Sam Mayes will come into the game after Mitch Georgiades went off with a left hamstring injury.
The young forward has been dangerous tonight and he will be missed in the finals should be forced to sit for multiple weeks with this injury.
Time will tell how severe this left hamstring injury is but he has put on his tracksuit top and is done for the night.
Game tied 33-33 with 11 mins left in Q3.
The Power are surging into the ascendancy in this third term with Rozee kicking his second goal and cutting the lead yet again.
The Bulldogs are being pressured and harassed into errors by the Power.
Dogs lead 33-32 with 13 mins left in Q3.
The Power are on fire to start this second half with Robbie Gray kicking a goal from a set shot and Peter Ladhams taking a mark and converting the goal.
They are now right in this contest and the Bulldogs need to find a way to move the ball cleanly again.
Bulldogs lead 33-26 with 16 mins left in Q3.
Bulldogs key forward appears to have been reported by one of the field umpires for a dangerous tackle on a Port Adelaide player.
Naughton had the player wrapped up in a tackle and was waiting for the whistle to stop play, in the process he threw his man to ground.
The umpire gave a free kick and told Naughton he would be reported, Channel Seven commentator Daisy Pearce doesn't think the matter will go to the tribunal, she thinks Naughton has "nothing to worry about".
But with key forward Josh Bruce out for the season, the Dogs will be sweating on Naughton being cleared.
First published in The Age on June 12, 2016
Bulldogs pip Power in thriller
Truck-loads of plaudits have covered the Western Bulldogs in recent years so it is difficult to find new ones for their gripping three-point win over Port Adelaide.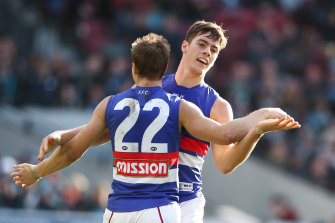 It was a magnificent contest by two outstanding sides with no more than 10 points separating them for most of the game. Both were unrelenting in their attack on the ball and under incredible pressure they somehow produced great skills.
There were heroes, and those who could have been in Port's side who were left to ponder how this match got away from them – it wasn't for a lack of courage.
The Bulldogs are leading but the Power are in this contest in every area except goal-kicking.
The Power have kicked just one major in this first half and simply can't find a clear avenue to goal, nor are they getting any luck with the bounce of the ball or being able to slip off defenders with the Dogs bringing numbers back into the defensive contests.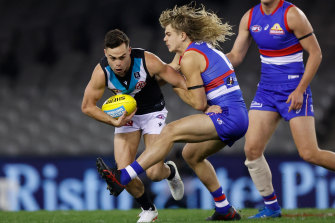 Travis Boak has 21 possessions at half-time while Robbie Gray, Caleb Daniel and Jack Macrae has all had 15 possessions each.
Unless the Power remembers how to kick for goal again, this Dogs will lock in their top-four finish.