Loading
Indeed, in 2018, NSW Treasury was able to use the Transport Asset Holding Entity (TAHE) to help mask the government slipping into a deficit.
And when the accounting rules changed, and the government was under pressure to turn TAHE into a legitimate commercial entity that was independent of the government, it hired consulting giant PwC to help it achieve that goal.
To continue the ruse, the government was willing to consider commercialising the entire public transport and road networks.
The state's ferries, trains, light rail, buses and roads, worth tens of billions of dollars, would be placed into a commercial corporation with a board and management independent of the government.
It then embarked on a consultant shopping spree, hiring other consulting giants to write reports that would hopefully provide the answer they had paid handsomely for. If they didn't like what they received, another report was on the conveyor belt ready to be pumped out.
In some cases, they were willing to breach procurement rules or hire consultants without going to tender, paying big bucks along the way.
At one stage, KPMG had two arms of its practice preparing separate reports on TAHE, one for Treasury and one for Transport for NSW.
If that wasn't enough, leaked documents showed that NSW Treasury pressured KPMG to delete or amend aspects of the report commissioned by Transport for NSW that found the plan could end up costing the state's coffers more than it saved.
The stakes are high. At a parliamentary hearing on Friday, it became clear that TAHE had created a deep rift last year between two of the most powerful public servants, Treasury secretary Mike Pratt and the then head of Transport Rodd Staples.
Pratt admitted that Staples raised concerns about safety issues posed by the new entity.
Staples was sacked last year without cause after 15 years at the highest levels of the transport department.
As Tony Harris said in an opinion piece, the model fails the truth test. He said TAHE and similar types of entities remove the need for the government to undertake real fiscal reforms, reforms that have a real economic impact "but alas, it is easier for our governments to devise accounting rorts".
With a parliamentary inquiry in the wings and shadow Treasurer Daniel Mookhey on top of his brief, as well as the Auditor General scoping a performance audit into TAHE, it is only a matter of time before the truth dribbles out.
Meanwhile, Treasurer Dominic Perrottet will continue to be dogged by the icare workers compensation scheme, which has only ever answered to him and which he took with him when he was elevated from finance minister to Treasurer.
Icare wasn't properly set up, had poor governance and, most important of all, failed to serve injured workers. Poor return to work rates continue to plague the scheme, which means workers are getting sicker and delaying returning to their jobs.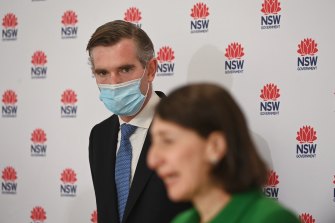 In March, the NSW Auditor-General told Parliament that icare's performance was the worst result by a government agency in the past year.
Until the COVID-19 case numbers started to explode and the government's handling of lockdown was criticised as being confusing, chaotic and a massive bungle, it had managed to skate over the scandals.
But no more. January 20 must seem like a long time ago for Berejiklian, who, after a short summer break, went on the Kyle and Jackie O show and defiantly sang, I Will Survive.
With the drums beating on her leadership after the lockdowns are over, she may need to rethink her choice of songs. As will Scott Morrison.
The Business Briefing newsletter delivers major stories, exclusive coverage and expert opinion. Sign up to get it every weekday morning.