But Chinese artists fear the new series, promoted and supported by the Hong Kong government as "conducive to maintaining the necessary operation and development of Hong Kong's economy", will deliver a soft-power win to Beijing.
"I think this whole project will be run by the Hong Kong government as a soft propaganda program that will sugarcoat the lies in Hong Kong," said artist Badiucao.
"We've seen artists arrested. We've seen full-on censorship of all cultural departments, art, education, universities, you name it."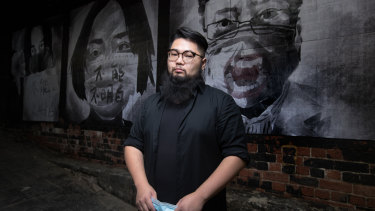 Badiucao, who is based in Australia, wrestles with the responsibilities of the filmmakers to reflect their current environment.
The book the series is based on was published three years before the Hong Kong pro-democracy protests pushed millions onto the streets in 2019, but well after the previous grassroots "umbrella" protest movement of 2014.
"Even though it was released in 2016, there's still no excuse for avoiding all the political turmoil that has been going on in Hong Kong," he said. "You don't have to insert protests, but we must know that this movement across the entire city shocked everyone's daily life."
An expat teacher who asked not to be identified because education is politically sensitive in Hong Kong said Kidman was "being used".
"I really don't like that her being here lends legitimacy to the notion that Hong Kong is still a world city and free in some way," he said. "It's not, and she helps the Chinese Communist Party look legitimate in that respect."
Badiucao said the series had a choice. "This can potentially be a great artwork because it is caught in-between a lot of the struggles in this rapidly changing city now. If it wants to, it can show the impact of how Hong Kong has changed."
Director Lulu Wang, Beijing-born but US raised, has focused her films on the dinner table, the light and dark of family life. She said last year that she intentionally avoids being overtly political in her work but does think that "there's a lot of downsides to collectivism".
When she was head-hunted by Kidman to direct the series, Wang said her main concern was the safety of the shoot. "In Hong Kong, it was always about safety, with the protests and everything, but now in a way, the hope is that Hong Kong will recover faster," she told film magazine Indie Wire in May last year.
The show has already received a substantial investment of political capital from the local government. Kidman came in quarantine-free after landing on a private jet on August 12 to reportedly stay at a $116,000-a-month apartment.
Mark Tucker, the chairman of Hong Kong's largest bank, HSBC, had to do the full 21 days of hotel isolation in the world's strictest quarantine regime when he arrived at the end of July. So did Hong Kong's Olympic medallists. But the Hong Kong government had to defend its special treatment of Kidman when she was spotted out shopping on Sunday, less than a week after arriving from Sydney, where COVID-19 cases were reaching 460 a day.
Hong Kong, a city of 8 million, has recorded an average of three cases a day for the past week.
"The case in discussion has been granted permission to travel to Hong Kong with a quarantine exemption for the purpose of performing designated professional work," Hong Kong's Commerce and Economic Development Bureau said in a statement.
"[The work] is conducive to maintaining the necessary operation and development of Hong Kong's economy."
Get a note direct from our foreign correspondents on what's making headlines around the world. Sign up for the weekly What in the World newsletter here.