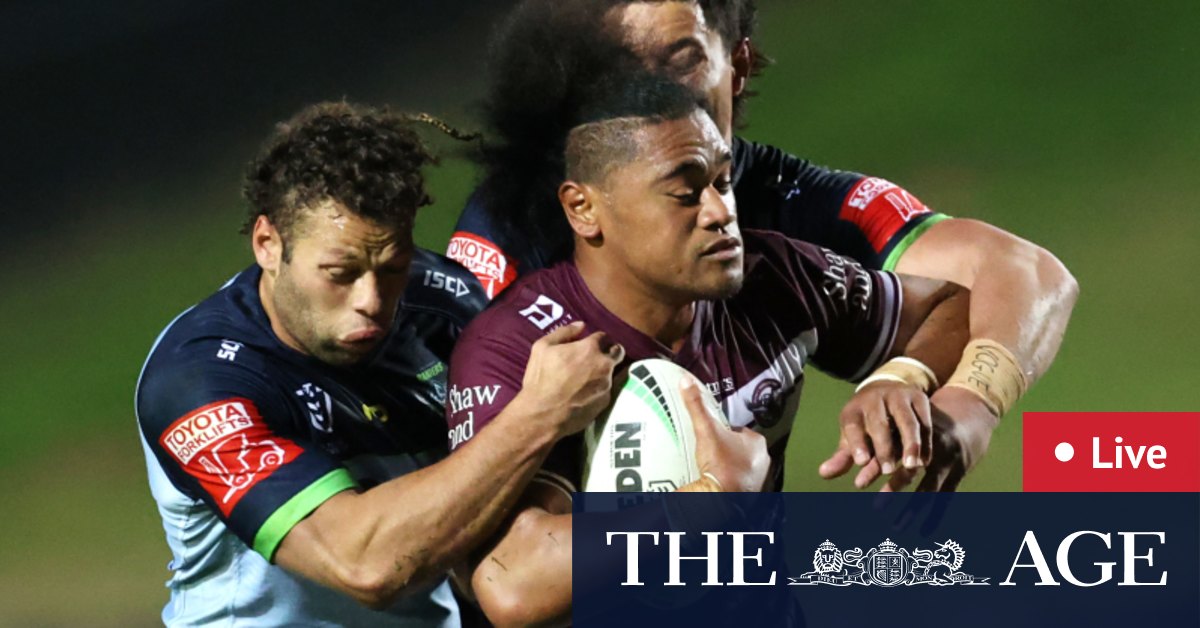 Throws that straight into touch as Souths continue to be frustrated by this very good Panthers defensive line. And now MORE football here for the Panthers as Alex Johnston can't get the handle on the Cleary bomb.
So that's a good sign but that's a nasty deep cut on the eyebrow. There's been just one six again in this match and that probably reflects the closeness of the contest. The game is better when those are used very sparingly or not at all. We've seen that in both games tonight.
Souths just being ground down here under all those penalties. And the Nicholls penalty was a real turning point there. That will need some explaining. And Josh Mansour in all sorts here… let's the towering bomb bounce and not only cops a knee to the face as he tidied up but hurst his knee in the process. Blood everywhere here.
Simply too much pressure on the South Sydney line and Penrith find them short on the left wing. Souths in real trouble now and the Panthers are rolling having scored 18 consecutive points.
Suspect we will hear more about that. It matters not on the scoreboard because Cleary steers them to a two-point lead with the penalty. OK, so Cameron Murray chased the long kick from Reynolds and the Panthers player loses it in the tackle. It ends up in the arms of Mark Nicholls but Souths end up being penalised. Why? Nicholls was the Downtown player and was not supposed to take part in the play. But he was back 10m from the catcher and could have made the tackle… but he can't pick up the loose ball? Lost me there.
Now another penalty to the Panthers and they lead that stat 11-2. Can Souths hang on here?
Burgess at fault there and this is really poor from Souths. Cleary will help himself to the points here and we are locked up at 12-12 with a fraction over 20 minutes left to play.
They just keep giving away silly penalties and have been pinged eight times to two for Penrith. Penrith camped right on their line and get a fresh set here off the Cleary kick.
Both teams really feeling each other out again, it feels like we've gone back to the start. Just looks set for someone to break this open as Cleary puts it in behind and Mitchell is forced to barge it back into play. The Rabbitohs have been the ones doing a bit more work this half in terms of running it from their end. They still have that two-point lead.
Souths need to get back into their groove here, gave away some silly penalties late in the first half and Penrith more than good enough to make them pay. Souths get away with a forward pass there and then someone end up with the penalty for a late shot after the pass. Cam Murray is the one who gets clocked from behind.
Cleary can't stick the conversion from the sideline and after looking so comfortable for much of the half, the Panthers roar back to trail by just two going into the second. The Rabbitohs need to find some discipline in a hurry or they will be roadkill.