"The question really is, do we spiral out of control or don't we," Mr Andrews said on Friday. "All of us must answer that question in the way we behave and the choices we make this weekend."
On Friday, ahead of a national cabinet meeting and confirmation of the 17 Shepparton cases, Mr Andrews said he would not rule out locking down regional Victoria.
"I cannot stress enough how close to the edge we are. If we don't all make good choices this weekend, then I'm not going to be reporting 50-something cases next week, we will be reporting a lot more than that, and then it will be away from us.
"And that's not good for anybody."
The 17 positive test results in Shepparton, which will be included in Saturday's numbers, come after health authorities warned of repeated wastewater detections in recent days and urged residents of the town two hours north of Melbourne to get tested.
Regional Victoria has not been under the same lockdown restrictions as Melbourne since August 10. Hospitality venues are open with capacity limits, retail stores are trading and outdoor gatherings of up to 10 are allowed, but home visits remain banned.
A Melbourne police officer was among Friday's 55 new local cases recorded in Victoria overnight, 49 of which have been linked to current outbreaks.
Health authorities are investigating the source of the remaining six cases.
A breakdown of Victoria's new COVID-19 cases
Victoria recorded 55 new local cases on Friday. Here is a breakdown of the cases:
14 linked to Al-Taqwa College, all tested positive on day 13 of isolation 
Three cases linked to Glenroy West Primary School 
Four cases linked to Newport Football Club – three are household contacts within one household, plus one other 
Two cases linked to Elite Gym in Spotswood area
Four cases linked to Central Park Pizza in Malvern East 
Six cases linked to two emerging clusters in St Kilda 
One case linked to a residential tower at 510 Lygon Street, Carlton – a primary close contact
Two cases are household contacts of a previously announced Altona North case 
One case has been linked to a Doncaster East case
13 cases linked to Multi-Cultural Youth Centre in Broadmeadows 
One case is a domestic cabin crew member who lives in Tullamarine and has travelled to Newcastle, South Australia, and Queensland during their acquisition period 
One case in Pakenham
One case in Point Cook
One case in Port Melbourne 
One case in Brunswick 
The 17 positive Shepparton cases were not included in today's official numbers. 
Source: Victorian COVID-19 response commander Jeroen Weimar update, Friday, August 20, 2021
Friday's cases were detected from more than 48,270 COVID-19 tests, and only 25 were in isolation for their entire infectious period. Two cases of COVID-19 were recorded in hotel quarantine.
Childcare centre, public housing tower added to state's exposure site list
The figures came as health authorities listed a childcare centre in Melbourne's north as a COVID-19 exposure site on Friday.
MyCentre Child Care at Broadmeadows was declared a tier-1 site over three days, meaning anyone who attended it during the specified timeframes has to immediately get tested for COVID-19, and quarantine for 14 days regardless of the test result. Tullamarine Animal Hospital was also listed as a tier-1 site.
The Frankston Community Vaccination Hub at Bayside Centre did not appear on the official exposure sites list on Friday, but public health provider Peninsula Health earlier confirmed a person visited there to receive a COVID-19 vaccination on Monday, and later tested positive for the virus.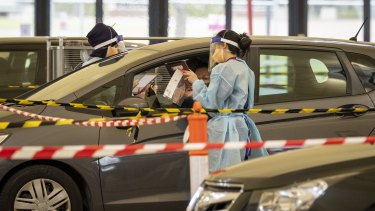 "While they had no symptoms while at the vaccination hub, they subsequently developed symptoms and tested positive to the virus [on Thursday]," Peninsula Health said in a statement.
"Due to the positive case attending the venue earlier this week, the Frankston Community Vaccination Hub has been deemed a [tier-2] exposure site."
The clinic was declared a tier-2 site on Monday between 11.30am and 12.45pm, meaning anyone who attended it during that timeframe has to get tested for COVID-19, and isolate until they receive a negative test result.
Loading
"The Frankston Community Vaccination Hub remains open and is safe for you to visit if you have a booking for your COVID-19 vaccination," Peninsula Health said.
The Health Department also declared a new tier-2 exposure site on Thursday at a public housing tower in Collingwood after consistent wastewater detections.
The principal of the Darul Ulum College of Victoria, Abdurrahman Gokler, flagged on Thursday that a junior primary school student had tested positive for coronavirus. The student attended the school on Tuesday.
The school was closed to all students from Friday until further notice, and Mr Gokler said the closure would allow for it to be deep cleaned, and for the Department of Health to work through a contact and containment strategy.
More than 28,600 Victorians received their COVID-19 vaccine doses in the 24 hours to midnight on Thursday.
Mr Andrews said he wouldn't bank on the Pfizer vaccine being available to people between 16 and 39 in the next fortnight. "What I'm saying is there has been an announcement about eligibility," he said. "[But] you can't make a booking for this stuff, I haven't seen it.
COVID-19 cases detected in Shepparton
Matt Sharp, the chief executive of Goulburn Valley Health, confirmed in a social media post the first Shepparton case was currently at home and isolating.
"Contact tracing is under way and will continue as a primary focus of GV Health's Local Public Health Unit," he wrote.
Health authorities said the first case was a man in his 30s and a parent of children at St Mel's Primary School in Shepparton, which has been closed for deep cleaning.
Victorian authorities to look closely at childcare centres
Health authorities will be looking at COVID-19 testing results from childcare centres to determine if any additional measures need to be introduced, Mr Weimar said.
"At this stage, all options are on the table," he said.
"We've always wanted to get the right balance between restrictions that are in place, but we've been concerned about transmission between children all the way through this particular outbreak.
"We've been concerned about transition between children all the way through this particular outbreak."

Jeroen Weimar
"Twenty-six per cent of everybody who is [an] active [case] is under the age of nine. I mean, this is how this is impacting our very youngest Victorians, so we are concerned.
"We will obviously look at the results over the course of today and tomorrow to see what other measures we might need to take."
Mr Weimar said authorities had seen transmission from teachers to children, from children to adults, and between students and children playing outside during the current COVID outbreak.
"All those scenarios have eventuated in this outbreak," he said.