Victorian government sources told The Age further details around delivery of the program would be worked through with school communities in coming week
Asked on Friday about vaccinating children in the 12-15 age group, Prime Minister Scott Morrison said his government was "working on plans" to have that cohort immunised.
"The interim advice is imminent and that will help with that planning," Mr Morrison said. "But I don't anticipate that to be finalised for about another week or so."
The move to allow VCE students to return to the classroom comes as school leaders say they have recently begun to bring small numbers of children back on campus anyway, due to fears they are at risk of disengaging entirely from remote learning.
Victorian Association of Secondary School Principals president Colin Axup said principals had the discretion to bring students on-site if they considered them vulnerable.
"And vulnerability is a pretty broad consideration; it's not just being medically vulnerable, we are very aware of the mental health of our students," Mr Axup said. "Bringing them into school for a day or so can be a huge fillip for them."
McKinnon Secondary College principal Pitsa Binnion said students were desperate to get back on campus if they could after months of remote learning.
"They're struggling with their motivation because it becomes arduous doing things on a screen," Ms Binnion said.
"The spirit within schools and the daily life within schools is not there and those conversations you have, the laughter you hear, all of that keeps you going. Funny things happen at school every day and when you've lost that connection it's really difficult."
The state government also said on Friday that the consideration of educational disadvantage would be applied to every student completing one or more VCE or scored VCE VET subjects.
"Consistent with the approach in 2020, the process will consider the individual impact of coronavirus on each student including school closures, students' health impact, remote learning and mental health challenges – and will use data like the GAT, other assessment and school comparisons to calculate final VCE results," it said.
Linda Maxwell, principal of Keilor Downs Secondary College, said teachers would have a more difficult time individually assessing the degree to which every student has been disrupted by COVID-19 this year.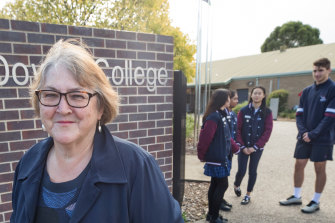 "Last year we knew the kids really well based on their performance as year 11s and we could extrapolate, but these kids have got that missing as well," she said.
"It is harder to do it because these are the kids that spent the full 200 days in lockdown, so they had a very impaired year 11 and that's a big problem."
Meanwhile, a new outbreak of COVID-19 in Shepparton has forced the closure of campuses of Greater Shepparton Secondary College, one of the largest schools in regional Victoria.
Students at the McGuire and Wanganui campuses were identified as close contacts of a positive case, forcing the school communities into lockdown on Friday. Students were told to take their books and devices home in the expectation of switching to remote learning next week.
Schools outside metropolitan Melbourne are open and not subject to remote learning.
The Morning Edition newsletter is our guide to the day's most important and interesting stories, analysis and insights. Sign up here.