"We know that children are just as vulnerable to infection as older age groups, that they are just as likely to spread the virus and that they are consequently at risk … of severe disease," Professor Toole said.
"The more children are infected, the more children there will be who will get severe disease and have to be hospitalised and placed into intensive care."
Still, Professor Toole said the government was right to prioritise young adults over young adolescents due to the lack of vaccine supply.
"It's very difficult ethically to say who should be the priority group when we don't have enough vaccine for everybody," Professor Toole said.
"I certainly agree with the current approach of prioritising young adults because many are essential workers and so if we vaccinate them, that will in turn protect their children and families."
Thirteen-year-old Tess Devine said it was hugely frustrating that she and her friends could not access the vaccine.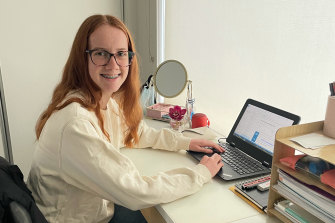 "The Delta variant really frightens me a lot more than the original [Wuhan strain] … because it is just so much more transmissible," Tess said. "All children, no matter what their age, deserve to be vaccinated and protected."
Tess said she found it difficult to understand why her brother, who is year 10, and her sister, who is year 12, could be vaccinated but she could not.
"It's a bit random, especially given we all catch the same train, go to the same school and do the same things together," she said.
Her mother, Angela McMahon, said she was furious at the slow pace of the vaccine roll-out.
"It's been a complete shambles and [the government] needs to do better," she said. "Our kids deserve to be vaccinated and protected."
AMA Victoria president Roderick McRae said opening up vaccination to younger adolescents and children, even with the risks they faced, could cause wider disruption because of the lack of supply.
"We have to target the various recipient groups," Dr McRae said. "We don't want to cause pandemonium by opening up vaccination to 12- to 15-year-olds when there is an inadequate supply available to older age groups.
"We need very wise heads to sensibly understand where we can get the biggest efficacy for the limited doses that we have."
The Morning Edition newsletter is our guide to the day's most important and interesting stories, analysis and insights. Sign up here.