A strong economic recovery out of the tight coronavirus restrictions in place across half the country may be delayed until next year, one of the nation's top banks has warned as signs emerge the growing financial cost of lockdowns is hitting low-income earners and women across NSW.
ANZ economists on Friday said they expect GDP to contract by 3.3 per cent in the September quarter – the second-largest quarterly fall on record – before a lower-than-expected recovery boost through the final three months of the year if lockdown restrictions are eased.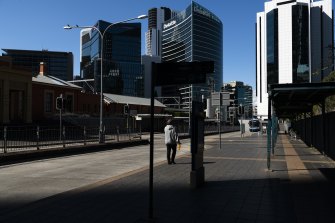 This week, Treasurer Josh Frydenberg said he expected the economy to contract by at least 2 per cent in the September quarter before staging a strong recovery as consumers and businesses tapped $290 billion in unused savings.
AMP Capital chief economist Shane Oliver, who a fortnight ago said the hit to the September quarter could be 2.5 per cent, now thinks it will be closer to 4 per cent or about $25 billion.
A strong recovery through the December quarter and early next year is increasingly important to the government's plans for the 2022 election, which is expected to be held between March and May.
But ANZ's economics team, led by senior economist Felicity Emmett, said the current lockdowns would now mean inflation and wages growth would take longer to reach the targets set by the Reserve Bank, which is likely to start lifting interest rates early in 2024.
ANZ had expected the September quarter to show a 1.3 per cent drop in economic output, but the string of lockdowns now meant it was likely to be 3.3 per cent before a "modest" 2.4 per cent rebound in the December quarter.
"A negative result in the December quarter (which would then put Australia into technical recession) seems unlikely at this stage, as it would require that restrictions are heavier (and hence economic activity lower) across the whole quarter," it said.
"We continue to forecast a strong rebound in economic activity through next year. While undoubtedly some households and businesses face financial stress, in aggregate, household and business balance sheets remain in good shape."