Pickett boots it long from the wing, Fritsch expertly nudges Henry under the ball then collects the spill, settles and drills it on the run from 20m out.
Melbourne trail by just two points with 9:39 to go, 11.8.74 to 12.4.76.
After being down by 44 points, the Demons have booted seven consecutive goals.
This is quite extraordinary. The battle for the minor premiership is going to go right down to the wire.
It's a seven-point ball game!
Oliver and Spargo kick another couple of goals from close range, and all of a sudden they trail 10.8.68 to 12.3.75 with 14:58 left in the game.
Melbourne have now kicked the last six goals of the game and are absolutely dominating the stoppages.
Gawn has already had six disposals and three clearances in this final quarter. He is having a huge say.
Melbourne trailed by 44 points at one stage.
A dominant third quarter has put the Giants in the driver's seat heading into the final quarter, as they look to secure their place in the finals.
Carlton 2.4, 6.6, 7.7 (49)
GWS 1.3, 6.5, 9.10 (64)
GOALS
Carlton: E.Curnow 3, Durdin, Casboult, Betts, McGovern
GWS: Hogan 3, Lloyd, Hopper, Perryman, Greene, Sproule, O'Halloran
DISPOSALS
Carlton: Walsh 25, E.Curnow 21, Newman 21
GWS: Kelly 24, Taranto 21, Ward 20, Whitfield 20
INTERCEPTS
Carlton: Weitering 5
GWS: Perryman 7, Taylor 7, Cumming 6
Back-to-back goals from Pickett and Spargo to start the final quarter draw the Demons to within 20 points of the Cats, 8.7.55 to 12.3.75.
They've now kicked five of the last six goals, including the last four, and Pickett has a team-high three.
Now then, with 18:13 left in the game, the Demons have plenty of time to give this game a shake. Where has this come from?
A fairly uneventful third quarter as the Cats continue to reap the benefits from their devastating second-term performance.
This result appears to have been in the bag for a while, as Geelong close in on the minor premiership, having not been in top spot once this season.
The hosts are dominating the disposals 310-268 and marks 77-56, while they also lead the contested possessions 116-109 and free kicks 17-13.
And despite trailing the inside 50s 41-43, Geelong have had more scoring shots 15-13.
Geelong 2.1, 10.2, 12.3 (75)
Melbourne 2.3, 3.5, 6.7 (43)
GOALS
Geelong: Hawkins 4, Cameron 2, Rohan 2, Dahlhaus, Selwood, Dangerfield, Close
Melbourne: Pickett 2, B.Brown 2, Viney, Oliver
DISPOSALS
Geelong: Dangerfield 23, C.Guthrie 23, Selwood 23, Henderson 22, Menegola 21
Melbourne: Oliver 30, Harmes 21, Salem 21
INTERCEPTS
Geelong: Henry 7, Atkins 5, Dangerfield 5, Henderson 5, Menegola 5
Melbourne: Lever 8, Bowey 6, Oliver 5
GWS now have a firm grip on this contest, having kicked the last five goals, including the first three of the third quarter, to take a 17-point lead with 8:29 left in the term, 9.6.60 to 6.7.43.
Hogan has a game-high three goals, and in worse news for the Blues, Cripps has been subbed out with a foot injury and has been replaced in Carlton's line-up by Dow.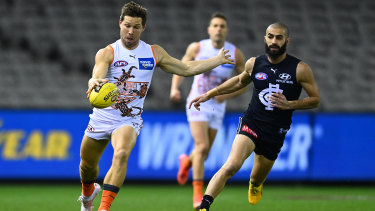 A Sproule goal has put the Giants in front and nearing the halfway mark of the third quarter, they enjoy a five-point lead over Carlton, 7.6.48 to 6.7.43.
This minor premiership battle has certainly turned out to be a fizzer.
Oliver finally ends Geelong's streak of nine consecutive goals to cut the margin back to 38 points halfway through the third quarter, 4.6.30 to 11.2.68.
Hawkins now has a game-high four goals.
Leading disposals: Oliver 27, Dangerfield 22, Henderson 21, Selwood 21, C.Guthrie 19, Menegola 19
The Blues had the best of the second quarter and both Betts and Levi Casboult, who is also playing his last game for Carlton, got on the goalkickers' list.
But for all their possession, aggression, craft and guile they couldn't put the Giants away, and after Toby Greene took a contested mark late in the quarter and goaled, GWS had closed the gap to one point at the interval, leaving them well-placed to take control of their own finals destiny.
Real Footy newsletter
Keep up to date with the best AFL coverage in the country. Sign up to receive our free newsletter on Mondays and Fridays