"The Council and co-respondents [the Taylors] maintained that the proposed development is a well-designed and respectful one, striking an appropriate balance between built form and landscaping on the Land," Judge Muir said, according to court documents.
"[Mr Powell and Ms Cheung] described the proposed development as an 'overdevelopment' with substantive impacts arising from its bulk, height, scale, form and density warranting its refusal. Particularly concerning to many appellants is the loss of their spectacular city and river views."

However, Judge Muir was satisfied the development complied with the City Plan for the area.
"The absence of unacceptable amenity impacts on the surrounding residents as demonstrated and the improvements of the long-term stability of the slopes resulting from the proposed development are relevant matters for the purposes of the Planning Act which further support approval," she said.
Mr Powell said the estimations he had received indicated the value of his home on Highlands Street would drop by $400,000-$500,000 as a result of the 28-unit development blocking his city views.
"I moved here in March 2016 and bought the house," he said.
"I had a town planner prepare a report at the time asking what could be done [on the land behind] and the town planner report said that the highest will be a two-level [building], which mean I wouldn't lose the view.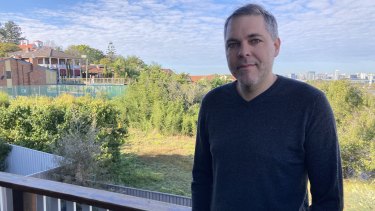 "And so to see the development that came through the council site, was contrary to what I expected.
"It's the size [of the unit buildings]. I've got two young kids, I've got a six-year-old and seven-year-old who swim in the pool. That [the units] will be overhanging and very close to the fence."
Several attempts were made to contact the Taylors for comment.
The Taylors' appeal against council's decision to reject their 86-unit development application on 88 Lever Street in Albion will be reviewed in the Planning and Environment Court on September 17.
Ms Cheung is listed as one of the respondents on the court file.