"It's obviously something that's very cute that transports us out of our bedrooms for a minute and gives us something to focus on," she said.
"It's just this free, happy joyous healthy animal."
Ms McDonnell hopes that her account will allow people to see Salvatore in action without having to breach their 5 kilometre limit. She also doesn't want people to get too close to the seal, in case it overwhelms him.
"People assume the Yarra is a dead zone so when you see this marker of life and joy in the river it frames it in a different way," she said.
It's not the first time a seal has been found in the Yarra. In 2017, a 200 kilogram Australian fur seal also made his home in the waterway. That seal was also known as Salvatore after the Salvation Army building in Richmond. But are they the same animal?
Ms McDonnell said some people thought so, however a Zoos Victoria spokesperson said it may be a new seal due to the amount of time that had passed.
The spokesperson said the seal appeared to be happy and healthy, with no signs that it was injured or distressed.
Meanwhile, fans of the peregrine falcons that nest on a perch of a building at 367 Collins Street are preparing for the latest batch of chicks to arrive.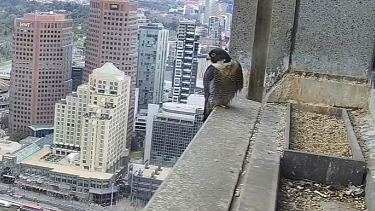 "Everyone's just saying 'look we're bored in lockdown', last year they got a lot of comfort out of watching it."
In need of some good news? The Greater Good newsletter delivers stories to your inbox to brighten your outlook. Sign up here.