When lockdown was extended, my heart broke. The thought of having to explain to my young daughter there'll be no birthday celebrations again this year, and to her older brother that there's no surprise unicorn party for your sister.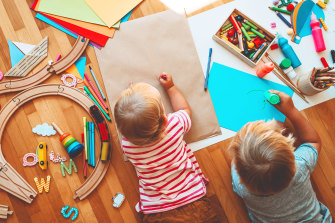 Then Saturday rolled around and my broken heart just sank, not that I thought it could sink much further these days, with the announcement that childcare and kindergartens are to close because of rising case numbers.
I am a mother of two children. My eldest is six years old and in grade 1. It pains me to see him in another year of his school life where most of it is with me as his teacher, a playmate, therapist and parent.
He has some learning challenges, and the pressure my husband and I feel to support him, reassure him and keep him focused is immense.
I work for a prominent NGO. My work is considered essential but it can be conducted at home. With our current policies, that means I have one child home-learning and now a three-year-old daughter who can't attend kindergarten or childcare.
Loading
For our daughter, and for us, childcare meant she had vital social interaction, her needs of attention and engagement were being met, a small escape from home. The predictability and routine she receives from her attendance at childcare and kindergarten is so important to her developmentally but also allows the rest of us time to focus on what we need to do for work and for my son's learning.
I understand public health, I have an undergraduate degree in the field, plus a nursing degree, and I truly understand what measures need to be taken to protect people. My husband and I are fully vaccinated and we follow all the lockdown rules, but I am so afraid of the damage these policies are having on a generation of children, without even commenting on the rest of the community's wellbeing.
The era of imaginative play with your mates is evaporating with electronic interaction frighteningly overtaking it – there are only so many castles we can build with the kids and only so many bike rides we can go on around the local area.