"These people came along with an intention — and that was pretty clear from what they were armed with when they came here — to be confrontational and engage in criminal activity. That's not protesting about freedom, that's criminal activity," Mr Patton said.
He also pledged that other options were on the table to confront future protests, one of which is already known to be planned for September.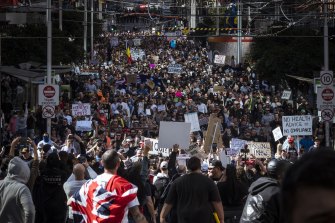 "We have now seen two or three of these protests in a short period of time with violence escalating each time," he said. "To shut down the transport network to prevent people coming in … that's a huge call, but it's one that we're now going to seriously entertain on the next occasion because I'm not going to tolerate this occurring again."
Anthony Kelly, trainer with Melbourne Activist Legal Support, said that while the organisation had not sent legal observers to the protests because of the threat from COVID-19 and the involvement of far-right and white nationalists in the anti-lockdown movement, it was concerned about the "high risk of injury" from the use of this kind of weaponry.
"Because of the risk of severe, permanent or life-threatening injuries their use should be limited to only the most extreme circumstances. The trouble with any of these weapons is if they are not used in a careful or proportionate way."
In 2018, Victoria Police was granted more than $35 million from the Andrews government to underwrite a major escalation in the force's anti-riot capabilities. Then chief commissioner Graham Ashton said the deployment of the new equipment would be "confronting".
The Saturday protests are believed to be the first time Victoria Police has used the new weaponry against civilians. A Victoria Police spokeswoman said the force "hoped we would never have to use this equipment" but that it was important for the safety of officers to have the option if required.
"The crowd control equipment enables police to safely engage with people who choose to act in a violent manner from a greater distance without needing to engage in a hand-to-hand physical confrontation," she said.
But solicitor Jeremy King, who specialises in police misconduct, said that regardless of what happened at Saturday's demonstration there were legitimate reasons to be concerned about Victoria Police's history of escalating the use of force at all types of protests.
"Victoria Police have a track record of being heavy-handed and over-weaponised with respect to dealing with protesters.
"These circumstances are quite different given that we are in a pandemic, but I would be very concerned long term about the ever-increasing militarisation of Victoria Police and its use of these tactics and weapons in peaceful protests post-pandemic."
Stay across the most crucial developments related to the pandemic with the Coronavirus Update. Sign up for the weekly newsletter.