Travis Erridge, chief executive at supply chain consultancy TMX Global, said these issues are even further compounded for Australian retailers, who are being forced to pay a premium to even get ships to dock at local ports.
"Shipping lines are making decisions based on volume not based on who needs it, so unfortunately we're having to pay a premium to attract the boats," he said.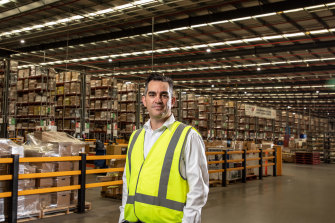 To secure 20 feet of shipping container space now costs $4000, up 400 per cent from this time last year. These costs are continually increasing between 4 and 14 per cent per week, Mr Erridge says.
Every major retailer that reported its full-year results last week called out shipping costs as a point of concern, with discount seller The Reject Shop saying logistics had cost the business an additional $9 million over fiscal 2021, a figure the company expected to increase in fiscal 2022.
This is likely to prompt an increase in prices for consumer goods as businesses increase costs to preserve margins. Appliance manufacturer Breville said it would do exactly that, with chief financial officer Martin Nicholas telling investors shipping prices currently "hold no bounds".
Paul Zahra, chief executive of the Australian Retailer's Association, said he was "deeply concerned" about COVID's continued impact on supply chains. Home and leisure goods are most likely to be affected, he believes, along with electronics as markets are also currently experiencing a shortage of semiconductors.
The lockdowns currently enforced in New South Wales and Victoria will help lessen some of the inventory crunch, Mr Heraghty said, as consumer spending has dropped due to the stay at home measures. However, overall the industry's outlook was not positive.
"It's highly unusual to have a volatile demand curve and a volatile supply curve. We really are in uncharted territory here, and with no real resolution on the horizon for either."
But not all retailers will have stock issues, he said, with many – including Super Retail which spent $200 million shoring up its inventory position – having prepared for this situation.
"Retailers that are well planned with their inventory and have positioned themselves to ensure that they've got their hands on stock, I think will be in a good position," he said.