JOLT chief executive Doug McNamee said the investment showed that, after a slow start, Australia's electric car market had turned a corner.
He said the total cost of ownership of electric cars was lower than for comparable internal combustion cars, and they would soon also be cheaper to buy.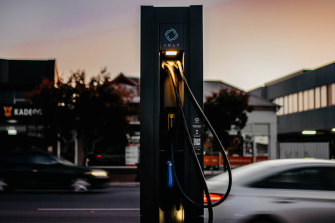 Tesla had demonstrated electric cars could be attractive to consumers on merit, and now that major car manufacturers were dedicating all of their research and development to the technology, they would continue to improve.
According to a new report by the Electric Vehicle Council, which represents the industry in Australia, in the first half of 2021, 8688 electric cars were sold in Australia, which was more than was sold in all of 2020.
The council's chief executive Behyad Jafari said this was about 1.5 per cent of new cars sold, compared with a market share of about 10 to 15 per cent in similar markets overseas. He described the figure as low but growing rapidly.
The growth now appeared to be locked in, particularly due to new policies announced by the NSW government to encourage the use of the technology, he said.
BlackRock is the world's largest investment manager and, in a series of high-profile statements, its boss, Larry Fink, has made it clear climate change is a key to concern to its clients.
The investment in JOLT is BlackRock's first in electric car infrastructure in the Asia Pacific region and its largest investment in the sector in the world.