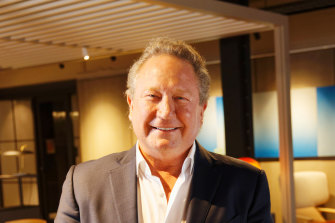 But knocking JBS out of any bidding war also enhances Tattarang's chances of buying Huon at a better price. And Forrest needs Frydenberg to help in that regard.
To be fair, another underbidder for Huon, the Canadian Cooke Aquaculture, is said to have used the same tactics of raising concerns about JBS with FIRB.
At the same time a knock back by FIRB could be a little awkward given it has approved JBS acquiring assets in Australia twice before.
Huon's major shareholders, Frances and Peter Bender in February raised the prospect of them selling their combined 53 per cent stake. By June the company had entered the early stages of finding interested bidders.
At this point, Forrest lobbed a non-binding conditional offer for Huon but refused to agree to a Huon-requested standstill agreement on buying stock. Within weeks Forrest picked up an 8 per cent stake.
When JBS' more generous $550 million, or $3.85 per share, offer was accepted by Huon, Forrest galvanised his intentions and acquired additional shares to take his stake to more than 18 per cent – enough to ensure the offer from JBS, which needed 75 per cent of Huon shareholders to vote in favour, would likely be unsuccessful.
JBS fought back – proposing a straightforward takeover cash offer that contained a minimum acceptance level of 50 per cent.
No pain, no fear principles aside and based strictly on commercial merits, JBS is clearly offering the best deal for shareholders. Indeed, even this offer looks a bit opportunistic given Huon's share price has been ravaged by COVID and is well below its pre-pandemic level of $4.70.
No one is commenting on what Tattarang offered other than to say it was well below the current offer from JBS.
But if Forrest wants in on the Huon game he ultimately needs to put his money in the same place he eats his grilled salmon. He may find success in jettisoning JBS out of the race, but given there are other contenders there is still some distance to the finish line.
The Market Recap newsletter is a wrap of the day's trading. Get it each weekday afternoon.