Thank you for reading our live coverage of the day's events. If you are just joining us now, here's what you need to know:
A woman in her 30s has died at her western Sydney home after contracting COVID-19, NSW Health has confirmed. It marks the 75th death in the state since the most recent COVID outbreak started in June and the 131st death in NSW since the start of the pandemic.
NSW recorded 753 new local cases of COVID-19, as the state hit its target of 6 million doses of coronavirus vaccine.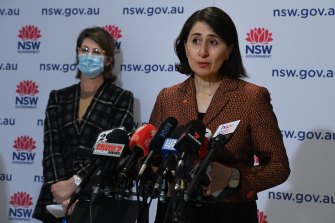 People aged 16 to 39 living in the inner west and inner city suburbs of Sydney are now eligible to book Pfizer vaccinations at a number of mass vaccination clinics, alongside residents areas of concern in west and south-west Sydney. A full list of eligible suburbs is available here. Both NSW and Victoria are now focusing their vaccination energies on this highly mobile age group as a means of slowing the spread of COVID-19.
NSW Premier Gladys Berejiklian is expected to make an announcement on Thursday or Friday about new freedoms fully vaccinated people in the state will have from September, as well as providing an update about the return of some students to school.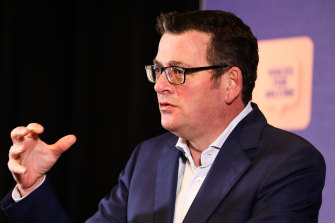 Victoria recorded 50 new, locally acquired cases of COVID-19, the majority of which (39) were not isolating while infectious. Of the state's total of 522 active cases, 34 are being treated in hospital and 23 are under the age of 40. One is an infant.
From tomorrow, all 16- to 39-year-olds in Victoria will be eligible for the Pfizer COVID-19 vaccine. If they had booked in already for an AstraZeneca jab, they will be given the option of Pfizer. But the government estimates 1.2 million people across this age group have not been vaccinated and there are 450,000 Pfizer shots available, meaning there is not enough supply for everyone just yet. Sixteen and 17 year olds will only be offered Pfizer.
The ACT recorded 30 new coronavirus cases, the territory's highest daily case total of the current outbreak so far. "Vaccination remains absolutely critical in stopping the spread of the virus and protecting our community," Chief Minister Andrew Barr said. It was "seriously worth considering" getting the AstraZeneca vaccine as soon as possible in light of limited supplies of Pfizer, he said.
New Zealand recorded 41 new coronavirus cases, bringing the country's total number of cases to 148 since the highly contagious Delta variant of the virus was first detected in Auckland a week ago.
This is Michaela Whitbourn signing off on the live blog for tonight.
The number of exposure sites have continued to increase in Shepparton, in Victoria's north, as coronavirus continues to make its way through the community and surrounding suburbs.
Health authorities have listed several sites in Mooroopna, a suburb on the west side of Shepparton, at the Coles and Liquorland on August 20.
Those sites join several other sites in Shepparton listed by authorities, including The Butter Factory Cafe on August 21, the WB Hunter Mitre 10 on August 20 and Fairleys SUPA IGA on Numurkah Road, also on August 20.
The Health Department also warned that a case attended venue for all exposure sites in this most recent tranche published late on Tuesday.
"Some individuals will be Tier 1 contacts and required to quarantine for 14 days and the Department will contact them directly with this advice," they said on their website.
Authorities also added sites at Aquamoves on August 18, KYO Sushi on August 20 and SkySalon Hairdressing on August 15 and 16, all in Shepparton and all tier-2 sites.
Victorian health authorities are also urging everyone in the state to keep a close eye on the growing list of exposure sites, which can be viewed here.
The Health Department's exposure site list exceeded 700 late on Tuesday night as the department added another residential tower in Melbourne's north, additional sites in the northern Victorian city of Shepparton and a new site at the Queen Victoria Market.
The department also added new sites in Altona North, near the community where much of the recent outbreak was seeded.
Several new sites at Altona Gate shopping centre in Alton North were also added late on Tuesday, including Sacca's Fine Food, The Butcher Club, Coles and the shopping centre itself, all tier-2, on August 21.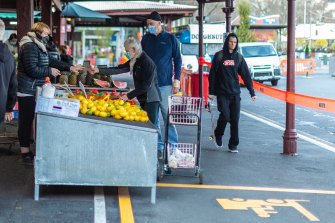 Authorities say the Queen Victoria Market was exposed by a positive case on August 22 from 1pm to 3pm. It is now listed as a tier-2 site.
The apartment building at 23 Blackwood Street, in North Melbourne, was exposed on August 17 and 18, making it the third new apartment complex listed on Tuesday and is considered a tier-2 site by authorities. Sites at the complex had been previously listed.
Several sites in Shepparton were also added as the outbreak makes it way through the community in northern Victoria.
A Coles was exposed early in the morning on August 22 and is now a tier-2 site. A Woolworths on the corner of High and Archer Streets was also exposed on August 20, alongside the SPC Factory Sales Shepparton, the Fernwood Fitness Shepparton, and the Westpac Bank in Shepparton, which are all tier-2.
Another Coles, at shopping centre Oakleigh Central in Melbourne's south-east, was also exposed on August 20, and is now a tier-2 site.
Authorities also added a petrol station in Lara, which sits on the northern edge of Geelong and which is the site of a new outbreak where six people have tested positive in one house. The Shell service station on Forest Road was exposed on August 22 and is now a tier-2 site.
Finally, authorities added a single site in Carlton, in Melbourne's inner north, at an EzyMart on August 21 from 6am until 3.30pm.
Victorian health authorities are also urging everyone in the state to keep a close eye on the growing list of sites, which can be viewed here.
Doherty Institute chief Sharon Lewin, whose group's modelling underpinned the four phase reopening plan agreed by national cabinet, has warned that there will be no single "freedom day" even as vaccination numbers rise.
Professor Lewin said the modelling was based on a gradual easing of restrictions at 70 to 80 per cent vaccination rates but also included testing for COVID, tracing cases, and isolating those who fell ill.
"The short answer is there is no freedom day here," Professor Lewin said on ABC's 7.30. But she added that "we will have more freedoms, no doubt about that" as vaccination rates climb.
Professor Lewin's caution comes after days of debate between premiers and Prime Minister Scott Morrison about what level of vaccination is necessary to ensure Australia can reopen without its health system being overwhelmed as cases rise, especially in NSW.
Her intervention is also an implicit rebuttal to suggestions, including from other epidemiologists, that Australia risked catastrophe by reopening with high vaccination but few or no other public health measures. That is not the assumption in the Doherty Institute modelling.
South Australia will introduce tough new travel restrictions requiring essential workers from high-risk states to have received at least one vaccination dose before entering.
Premier Steven Marshall said the new rules, which are being discussed with industry bodies, would apply to approved people who are allowed to leave quarantine for essential work.
"There are often people who have high level technical skills who need to come into South Australia that can't do their 14 days quarantine," Mr Marshall said at a press conference on Tuesday.
"We have very strict conditions around these, we are just taking it to another level now.
"These are small numbers but it is a risk we want to further mitigate against."
The new rule would apply to essential workers coming from jurisdictions South Australia considers high risk, which currently include NSW, Victoria and ACT.
It would not apply to transport workers who are subject to nationally agreed testing requirements.
It's the heart-rending, tear-jerking, passion-swelling call to action that Australia has been waiting for. And curiously, it has come in the form of a Qantas ad.
The national carrier this week released a video advertisement that functions more readily as a pro-vaccination campaign ad, as it follows the story of three sets of travellers on their journey back into the world at large – of course, after receiving their COVID-19 jabs. And it's stirring stuff.
"I'm gonna see you soon, OK?"
Qantas, you had me there. I'm welling up with tears just writing this. A bloke is on the phone, talking to someone in a far-off place, and he says the sentence we have all been dying to say for so long now.
Read the full article from Traveller here.
The Royal Melbourne Hospital will only accept the most acute ambulance patients as it winds down operations due to the furloughing of 450 staff who may have been exposed to COVID-19.
A cluster at the hospital grew by four cases on Tuesday, and the hospital confirmed on Tuesday afternoon ambulances had been instructed to avoid the hospital in most cases.
"As we continue to work through our outbreak (announced Saturday 21 August), the emergency department continues to accept walk-ins but remains on ambulance bypass," a statement from the hospital said.
"We continue to be open for trauma and all urgent care arriving via ambulance, our outpatient clinics are operating as usual and we are still conducting emergency and category 1 surgeries.
"We would like to once again thank our colleagues across the health system for their continued support during the challenging time. All wards, except for one, are fully operational. We hope to have all services operating at near full capacity by Wednesday 25 August 2021."
Federal Labor MPs on an influential Parliamentary committee have made a rare break from ranks to call for the lobbyist register and code of conduct to be enshrined in legislation.
In a report tabled on Tuesday, the six Labor members of the public accounts and audit committee say there appears to be a "serious and fundamental weakness" in the fact that "the government has been operating an essentially passive regime".
The Auditor-General examined the lobbying code of conduct in 2018 and again in 2020. Between those two audits, responsibility for it was transferred from the Prime Minister's Department to the Attorney-General's.
You can read more about what the lobbying code of conduct is and who can be a lobbyist here.
The second audit found little or no progress had been made by the Attorney-General's department in fixing up the problems identified two years earlier. The department told the committee it now had a plan to get on with all these things.
The committee has asked the Attorney-General's Department to give an update within six months on its work to implement the audit recommendations, including how it's telling people about the lobbyist code of conduct and its progress on developing a framework to judge the code's success.
Liberal MP Lucy Wicks, the committee's chair, said this would give an extra level of oversight to make sure the improvements were made.
But Labor MP Julian Hill, the committee's deputy chair, told Parliament the whole thing should be enshrined in legislation to give it a stronger basis.
"This would be a small but tangible step towards helping to restore public trust," he said.
"A legislative basis for the lobbying code would improve compliance and indeed could provide penalties for serious or deliberate breaches of the code. Currently, there are no penalties, it's just an, 'oh well, she'll be right' approach."
Ms Wicks said the committee's discussions about the best approach had included that "there wasn't sufficient evidence taken during the inquiry to include any further recommendations or views in relation to [legislating] in this report".
Mr Hill noted it was only the second time in his five years on the committee that opposition MPs had made additional comments on a report.
COVID-19 cases in NSW will continue to climb unless the reproductive rate of the outbreak decreases, as the Chief Health Officer warns the state is "here for the long haul".
There were 753 new local cases reported in the state on Tuesday, a drop on numbers over 800 in recent days although the five-day moving average still increased.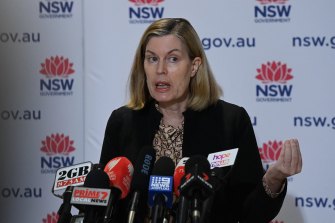 "I'd love to believe that we are on the trend down … but one day is not a trend," Dr Kerry Chant told reporters.
In an infectious diseases outbreak, the reproduction rate is the average number of people each infected person goes on to infect. So at a reproduction number of 1.3, every 10 people who test positive to COVID-19 will collectively infect another 13 people.
An effective reproduction number (or "R eff") is a more sophisticated form of this number based on modelling, which may include factors such as population immunity, hospitalisations and social distancing. For this reason, the R eff of an outbreak can vary slightly based on who is running the numbers.
On Tuesday, Premier Gladys Berejiklian said the R eff in NSW's outbreak was 1.3.
"We want to see it decreased below one," she said, noting that "in many places in the world it is between seven and nine".
The most recent R eff figures published on NSW's outbreak were 1.06 by the state ministry's Agency for Clinical Innovation last Wednesday and 1.17 from the federal department on August 15.
As Greater Sydney including the Blue Mountains weathers its ninth week in lockdown, heavy rain, winds and even snow has made outdoor exercise challenging. The Sydney Morning Herald's photographer Wolter Peeters snapped these distinctly wintry shots in Blackheath.