Public health measures are here to stay, no matter what percentage of Australians are fully immunised. This fact has gotten lost among the statistical noise and competing modelling.
Australia's path out of the pandemic lockdowns does not mean the end of mask-wearing, social distancing, and QR code check-ins. But it does need a solid plan for living with the virus.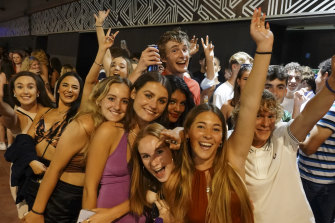 As vaccination rates rise the federal government wants you to be able to go to the pub once again to see friends – but you'll probably have to wear a mask on the train or tram there, and use a check-in app to sign in.
You could book a holiday to the Sunshine Coast or even Perth without having to stress about sudden border closures or a two-week stint in hotel quarantine, but you might need to show proof of vaccination and wear a mask on your flight.
The federal government has committed to using the Doherty Institute's modelling to form the backbone of its four-phase pandemic recovery plan and set vaccination rates the country needs to hit before widespread lockdowns aren't necessary.
Doherty's experts concluded that with 70 per cent of the eligible population aged over 16 vaccinated (that's 56 per cent of the total population), it would be much easier to start living with the virus. Australia is expected to hit that 70 per cent mark within weeks.
But that does not mean the Doherty Institute, or state or federal governments, want all restrictions removed once that initial target is reached. It doesn't even mean an end to strict lockdowns in rare cases. As the institute said in a statement on Monday night, there is no "freedom day".
Any sensible modelling assumes there will be a baseline level of ongoing restrictions as Australia learns to live with COVID.
"It may be that we actually have indoor mask-wearing for years in certain settings," NSW Chief Health Officer Dr Kerry Chant said on Tuesday morning. "The world is grappling with how we co-exist with COVID and the virus may throw us curve balls."