The Sharks plan to use Andrew Fifita's hospital battle as finals inspiration this week as they aim to keep their season alive with a win against the Broncos.
Fifita was rushed to hospital and later put into an induced coma because of a throat injury he suffered in the club's loss to the Knights on August 15. He is now awake and remains in hospital in a stable condition.
Sharks star Braden Hamlin-Uele on Tuesday said the team spoke to Fifita on FaceTime this week to get an update on his condition. He said seeing Fifita's smile had given the players a lift, and they would use their injured teammate as motivation heading into the last two games of the regular season.
"It's tough to see one of our players and mates [in the hospital], but Fifita, he always has a smile on his face no matter what the situation is, so to see him in such high spirits, it radiates around the group," he said.
"You never want your boys to go into hospital from a game. It will be a disservice to him if we don't put our best foot forward out there."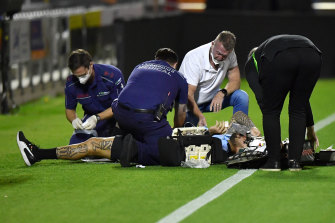 With the Sharks, Titans and Raiders all on 20 points, Cronulla need to win their final two games against the Broncos and Storm to give themselves the best chance of making the eight.
Hamlin-Uele said the Sharks were also drawing motivation from the sacrifices made by the club this season.
"A lot of boys and families have made sacrifices to come up here [Queensland]. To not make the finals would mean they came up for nothing really," he said.