"It's an endorsement of the Hong Kong situation that says it's okay, people can live on," said Hui. "It is not. People are in pain or in despair."
Beijing put an end to more than 18 months of political turmoil in Hong Kong by implementing national security laws last year – shutting down media companies, arresting artists and forcing thousands of pro-democracy supporters into exile.
Hong Kong Legislative Councillor Priscilla Leung said, "Nicole Kidman's exemption case is not just about politics, it involves the health security issue and is a matter of unfairness".
The decision to give Kidman a quarantine exemption has triggered a further outcry in Hong Kong where the government has maintained a COVID-zero strategy and mandated quarantine of up to 21 days for incoming travellers.
"This is all about optics," said John Walker, the chair of Eastpoint Partners, a business consultancy operating between Hong Kong, Seoul and Australia. "A huge reminder of no matter how much you build businesses and contribute to Australia and other countries it is about perception, not outcomes."
Loading
The American and European chambers of commerce are becoming increasingly exasperated by the tough travel restrictions in Hong Kong, which resemble the COVID-zero strategy on the Chinese mainland.
"It has reached a boiling point," Tara Joseph, president of the American Chamber of Commerce in Hong Kong told The Washington Post on Friday. "Watching the rest of the world think forward while Hong Kong doesn't budge and becomes more draconian is deeply frustrating and, for some people, the last straw."
Hong Kong's Secretary for Commerce Edward Yau on Monday drew a comparison with Kidman and health workers, scientists and air-crews who had been let into Hong Kong at the start of the pandemic.
"We are making a small exemption to a handful of people who need to come in to do the production," he told Bloomberg.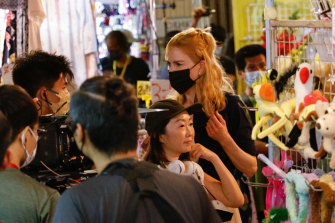 "Our job is to make sure we have good connection with the wider world, provided that such exemptions are being made in good faith and also with sufficient safeguards."
Yau defended Kidman after she was spotted shopping at popular retailer COS two days after landing.
"I have personally checked, there are certain itineraries that are part of the costume fitting," he said.