Coastal NSW from Sydney to the South Coast can expect a windy battering this evening as a deepening low-pressure system moves offshore, stirring winds that will likely gust to near-cyclonic strength in places.
The transient low, which has already brought late-season snow to parts of northern NSW and the Blue Mountains, will also have dumped about 80 millimetres of rain on Sydney as it moves through.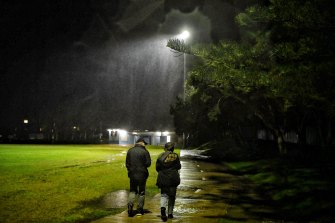 If locked-down Sydneysiders hadn't reason enough to stay indoors, the winds and rain have also kept "feels-like" temperatures in single digits all day Tuesday.
The Bureau of Meteorology has issued several warnings, including for damaging coastal winds and hazardous surf.
Winds could exceed 90 kilometres per hour later on Tuesday afternoon in a narrow coastal strip from Sydney down to the northern reaches of the South Coast. Wave heights there could up to six metres, bringing localised coastal erosion, the bureau said.
The deepening low will bring "a fairly nasty burst of winds", Ben Domensino, a senior Weatherzone meteorologist, said. "We could see over 100-kilometre per hour winds."
The impact of the low, though, could have been worse. The fact the system will deepen offshore and move away quickly means it probably won't meet the typical description of an east coast low, Mr Domensino said.
Still, it may match the criteria for a so-called bombogenesis or "weather bomb" if its core drops at least 24 hectopascals – a measure of pressure – within 24 hours.