Richard Pusey, the man who filmed four dying police officers after a crash on Melbourne's Eastern Freeway, has been banned from working as a mortgage broker for a decade after making false statements to authorities over a number of years.
The Australian Securities and Investments Commission on Tuesday said it revoked the licence of Pusey after he provided seven false statements in credit licence applications and compliance statements between 2011 and 2017.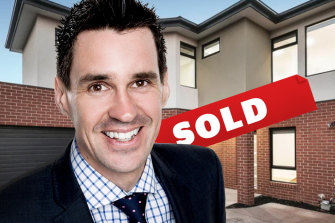 But the financial watchdog also banned the Porsche driver on character grounds, saying he lacked honesty, judgement and had "no regard for the law".
"ASIC was satisfied that Mr Pusey … lacks the attributes of good character, honesty, and judgement; has no regard for the law [and] cannot be relied upon to comply with directions issued from authorities," the watchdog said.
It also said Pusey "is likely to contravene credit legislation and financial services legislation, and is not a fit and proper person to participate in the financial services and credit industries".
Loading
"ASIC has banned Melbourne-based former mortgage broker Richard Pusey from providing financial services and engaging in credit activities, controlling a financial services or credit business and performing any function in relation to carrying on a financial services or credit business for a period of 10 years."
ASIC said Pusey was a director of IKnow (Vic) Pty Ltd, which held a credit licence between 2011 and 2015 and was currently a director of ISwitchNow Pty Ltd, which held a credit licence between 2015 and 2019.
IKnow (from 2005) and Pusey (from 2013) were also authorised to provide general financial product advice as authorised representatives of Australian Life Insurance Distribution, which is part of the Australian Life Insurance Group.