Energy giant Oil Search is seeking to assure Papua New Guinea it will continue acting in its national interest if a $22 billion merger with Santos proceeds after Prime Minister James Marape warned against reducing local headquarters to a "branch office".
As Oil Search and Santos carry out due diligence on each other ahead of their proposed merger, acting Oil Search chief executive Peter Fredricson said the company was also in ongoing talks with PNG's government, one of its biggest and most important stakeholders.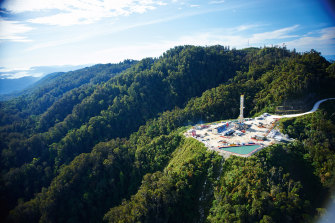 The PNG government has declared it sees value in the added size, scale and balance-sheet strength the tie-up could bring to Oil Search's local operations that provide a large part of the nation's gross domestic product, but cautioned it must satisfy a "national interest" test before being approved.
"We do not wish for the largest oil and gas company operating in our country to simply be a branch office of a foreign company," Mr Marape said.
While Oil Search was not yet in a position to provide specific undertakings, Mr Fredricson on Tuesday said the company recognised its important role within PNG and vowed to maintain an ongoing commitment to the nation and its people.
"The way we engage with PNG will continue to be positive," Mr Fredricson said. "We have close to 1000 people in PNG and nearly 90 per cent of them are nationals …. so they are quite important to us and I suspect we are quite important to PNG as a company as well."
Oil Search and Santos, two of the ASX's top oil and gas producers, are edging closer to a $22 billion merger agreement that would combine their oil and gas interests across Australia, Papua New Guinea and Alaska.
The companies earlier this month confirmed that Santos had presented an offer under which Oil Search investors would receive 0.6275 new Santos shares for each Oil Search share held, implying a value of $4.29 per Oil Search share based on July 19 prices.
If the tie-up goes ahead, Oil Search shareholders would own approximately 38.5 per cent of the merged group and Santos shareholders will own 61.5 per cent. Oil Search's board said it intended to unanimously recommend the deal be approved.