The Secondary Principals' Council has also joined the NSW Teachers Federation in renewing calls for teachers to be given vaccination priority, saying many teachers in regional areas have not been able to book an appointment until September or October.
In advice to the government, the Secondary Principals' Council says the return to classrooms should be based not only on vaccination rates – 70 per cent generally, and 80 per cent among the adult population, it suggests – but also the characteristics of a school's local community.
"For our disadvantaged settings, the longer we stay locked down, the greater the wellbeing concerns for our communities," said president Craig Petersen. "[The council] believes that an LGA-differentiated approach to the timing of return is necessary."
Mr Petersen said some teachers – especially in rural areas – were still having to wait for their vaccination appointments, a point also raised by the NSW Teachers Federation.
"We advise that unless all teachers are fully vaccinated and there is a minimum two-week period following their second vaccination, many teachers will be reluctant to return," he said.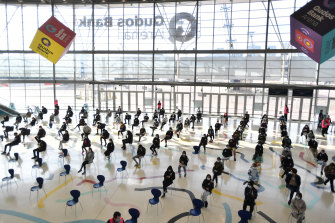 While HSC students in hotspot areas have been prioritised for vaccination, Mr Petersen said that should be extended to all areas, with other eligible student groups to follow, particularly those with special needs. For vaccinations to take full effect by the October 19 HSC start date, students would need to have their shots by mid-September.
Premier Gladys Berejiklian said students aged 16 and older could already get their vaccination.
"For any other children, any other people between the ages of 16 and 39, you have priority in those local government areas of concern," she said. "We also know through the various means that there is already a high take-up rate of teachers that are vaccinated."
Some parents remain concerned about sending their children back to school without higher community vaccination rates, or a vaccine for children. No vaccination for under 12s is available yet. Trials have begun overseas, but a safe vaccine is many months away.
"I'd like the option to keep my kids home for homeschooling if I don't believe they've considered the risks enough," said one parent, who wanted to remain anonymous but reflected the views of many who contacted the Herald. "Last time we returned to school the [Department of Education] cut off any access to the ability to homeschool."
Up to 15 per cent of COVID cases have been children during this outbreak, although the hospitalisation rate remains less than 2 per cent for those aged nine or under, and none have been to an intensive care unit. Health experts warn being kept home is contributing to other significant health issues for children.
Loading
Some countries are mandating vaccinations for teachers, with medical experts saying the best way to protect children was to vaccinate the surrounding adults.
NSW cannot compel teachers to reveal their vaccination status and has not made vaccinations mandatory, as it has for health workers. However, the NSW Department of Education is surveying teachers on their status and intentions.
Julie Leask, a public health professor who studies attitudes to vaccination at Sydney University, said high vaccination rates among teachers would protect both them and their students.
"Most teachers will want that," she said. "It will be very difficult to require teachers to be vaccinated in order to work."
However, a temporary solution could involve requiring teachers to have evidence of vaccination, a medical exemption, or a recent negative test, Professor Leask said.
"Vaccination is more invasive than usual public health measures, you have to have a good reason to mandate it for workers," she said. "There is a good reason to protect kids in school, particularly when they are the population that cannot be vaccinated."
The Morning Edition newsletter is our guide to the day's most important and interesting stories, analysis and insights. Sign up here.