On Monday, the neighbour was home all day but did not hear the occupants of the home or the sound of any children. Just before 7pm, she heard police arrive.
"We were having dinner and all of a sudden … a car roared. I thought what the hell? It's such a small laneway. And that was the police," she said.
"I could see the lights, and straight away they were telling them to get out, to get on the ground. One of them arrested was howling and crying. Just kept whimpering and crying."
She said she then saw the children being carried to a car by police officers.
"I saw the kids carried away, you could see the police carrying them and saying, 'You'll be fine, you'll be safe now'," she said. "I don't think they were crying, I didn't hear the kids crying."
On Tuesday morning police said they were still investigating whether there was any relationship between the four people they arrested and the victims, but at this stage there seemed to be no connection.
"I don't think it was random and I don't think the community needs to be concerned, we have everyone relevant to the inquiry in custody," Victoria Police Commander Mick Frewen said.
"Clearly this family and the children have been picked out for a particular reason and it's going to take a while for us to get behind with the family to better understand what might sit behind by way of vulnerability, what others might see as opportunity, and what they would be blind to that we might be able to shed some light on."
He told radio station 3AW that the family had been "victims of a terrible crime" and they were still trying to understand the motive behind the incident.
Commander Frewen said the children were in good spirits and had been reunited with their parents. The sister and brother were not tied up when police found them in the home and had been about to get back into their family's stolen black Mercedes when officers arrived.
"They displayed resilience well beyond their years," he said. "They were really quite remarkably docile and at peace with things."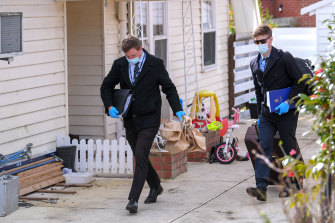 The children are now staying in accommodation with their parents while their home remains a crime scene. Police say English is the second language of the family. Cantonese interpreters were used on Tuesday.
Commander Frewen said the family had no idea why they were targeted. "They are bewildered," he said.
Detectives remained at the Mitcham property where the children had been found on Tuesday morning. A tow truck collected the black Mercedes in the early afternoon.
Commander Frewen said he didn't believe the property had attracted police attention previously and those who lived there weren't known to police.
Police also attended the Blackburn North home on Tuesday afternoon, taking evidence bags from the property, as well as a laptop, some children's shoes and a suitcase.
Loading
Commander Frewen said the 32-year-old mother of the children had been the victim of a "terrible assault".
"Obviously being removed from her children in such violent circumstances is enough to tear the heart out of any parent and she is no exception," he said.
"She was so uplifted to have them reunited with her and her husband last night, but she is still traumatised by what has happened."
Witness Jane, who did not use her surname, told 3AW she had been walking her dog past the family's home on Monday morning when a woman ran towards her with tape on her face and her hands bound behind her back.
"She was obviously distressed, screaming and yelling. What I could make out was she was saying, 'My babies, my babies,' " she said. "She was trying to get me to get the tape off her hands."
Locals are being urged to check their CCTV and dash-cam footage and contact police if they have any further information.
Anyone with more information is urged to contact Crime Stoppers on 1800 333 000 or visit crimestoppersvic.com.au.
Our Breaking News Alert will notify you of significant breaking news when it happens. Get it here.