AFL chief Gillon McLachlan has told finals fans not to stream onto the field to mark Lance Franklin's 1000th goal.
It is expected extra security and police will be on hand to prevent the crowd from marking the milestone in the traditional manner of a pitch invasion.
In the past, the league has preferred fans not to run onto the playing surface to mark such landmarks though could do little to stop people power when the moment came.
Membership of the 1000-goal club seemed improbable for Franklin at the start of the season but, with just eight more goals needed, it is now firmly on the cards. It could happen in this Saturday's Sydney derby elimination final in Launceston.
League officials and health authorities in Tasmania are desperate to avoid a scenario where up to 10,000 fans in a state without any active cases could come into contact with players and staff who would have flown in from locked-down Melbourne earlier that day.
"Fans running onto the field to celebrate 1000 goals, I'm not sure we thought we'd get to another 1000 goalkicker so let's just celebrate that, that one of the greatest players to have played our game is being close to one of those almost untouchable milestones," McLachlan said.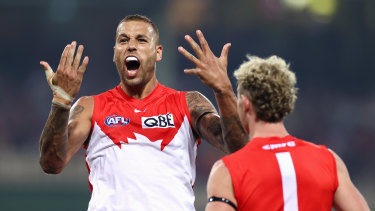 "It will not be appropriate in the current environment to run onto the field and I think all of our supporters know that.
"It will be a helluva thing to get to 1000 goals. I didn't think he was going to get this close this season, I must say, and I reckon you can almost touch it now. It's a pretty amazing thing if it happens. If they get into a second final you reckon he's a pretty good chance."