Afterpay has signalled it has long-term ambitions to distribute mortgages, as it also looks to offer Australian consumers a wider range of financial products as a result of its $39 billion planned merger with Square.
In a move to diversify its revenue, Afterpay is preparing to target younger customers with Westpac-backed bank accounts through a new app launching in October, initially offering transaction and savings accounts.
At its full-year results on Wednesday the buy now, pay later (BNPL) operator gave the clearest indication yet that it is also eyeing the lucrative mortgage market – though it would not be writing loans itself.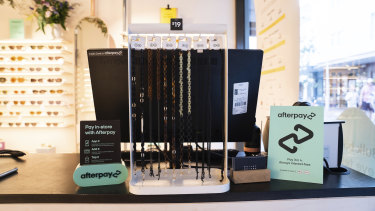 The banking app will not initially include loans, but an investor slide pack on Wednesday included illustrations of how the app may evolve in the longer-term. One such illustration included a potential screenshot from the app saying: "$800,000: Your first apartment in Bondi is pre-approved."
When co-chief executive Anthony Eisen was asked about the slide and his thinking on mortgages by an analyst, he replied that Afterpay had no plans to manufacture its own traditional banking products, but said its app could act as a "conduit" for other financial products. The slide in question showed areas where Afterpay thought there were opportunities, he said.
"By deeply knowing our customer, we think that we can introduce things into the future," Mr Eisen said.
Analysts have previously predicted Afterpay's banking app, Money by Afterpay, would see it move into distributing a range of products including home loans – which would generate referral fees for the company.
Speaking to The Sydney Morning Herald and The Age, Mr Eisen said the Afterpay platform could be used to educate customers and offer them a range of financial services manufactured by other firms. These services could range from traditional credit, to investing, to cryptocurrencies.
"The real key point is that we've connected deeply with customers in Australia and globally on this trust point, and we're not going to change our stripes in that regard," Mr Eisen said.