The Melbourne man accused of kidnapping two children in Blackburn North was known to his victims and made a $1 million ransom demand, a court has heard.
Jiangang Ji, 36, from Mitcham, appeared at Melbourne Magistrates Court on Wednesday charged with offences including two counts of kidnapping, aggravated burglary, armed robbery, false imprisonment, three counts of common law assault and theft of a motor vehicle.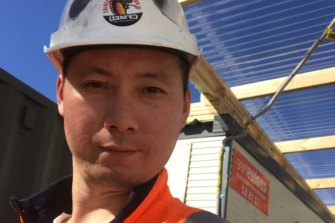 Prosecutor Holly Baxter asked that the magistrate allow investigators more time to prepare their brief of evidence, due to the amount of evidence to be processed.
"There are at least three different locations where items have been seized and need to be analysed," Ms Baxter said.
"There are three phones that need to be analysed and that is because the accused and the victims were known to each other and material on those phones needs to be translated. It's in a foreign language, namely Mandarin."
Mr Ji appeared remotely from the Melbourne Custody Centre dressed in a white T-shirt and blue medical face mask. He had dark marks under his eyes and sat sobbing before a Mandarin interpreter began translating the hearing. Mr Ji removed his mask briefly to wipe his eyes.
Court documents released to The Age show that as part of his alleged offending, Mr Ji allegedly made a $1 million ransom demand for the return of Adilla Wally, 5, and her three-year-old brother Bilal, after he took the children and the family's $50,000 black Mercedes-Benz from their home in Blackburn North on Monday morning.
The court documents also show Mr Ji was allegedly in possession of a knife at the time and also took a Telstra SIM card from inside the property.